Notes from the Manager
Related Strips: #514: A Flesh Wound; #524: Hazed and Confused, Part One; #525: Hazed and Confused, Part Two; #528: I Never Kid, Part One; #529: I Never Kid, Part Two; #532: TMI
Don't forget there are three strips this week, so come back on Friday!
Hey, Chicago-area people: I will be a special guest at First Aid Comics' Crystal Lake Show this Saturday, December 4th, from 10am – 3pm. Me, a couple of other cartoonists, a few actors, and also Spider-Man and Santa Claus, so… yeah! How awesome is that gonna be?! SEE YOU THERE!
Yes, Kurt moves his beer from his left hand to his right hand between the last two panels.
UPDATE: OH. I totally forgot. I have a guest strip up (featuring Franklin!) over at Steve Napierski's Dueling Analogs, so go check it out! New readers coming over from Dueling Analogs for the first time would do well to start from the beginning!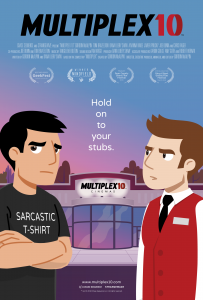 Multiplex 10 is here!
Although Multiplex 10 has ended, an animated prequel/reboot called Multiplex 10 was funded through Kickstarter in 2017 and is NOW AVAILABLE for rent or purchase on Vimeo On Demand, Amazon Video, and elsewhere! And an all-new, irregularly-updated Multiplex 10 web series (set after the short film) recently launched on YouTube! Learn more about the web series on the official Multiplex 10 website!
Stay up to date on all things Multiplex, Multiplex 10 and me (a.k.a. Gordon McAlpin) by subscribing to my newsletter!