Notes from the Manager
Related Strips: #534: It Is Your Destiny
But wait, there's more! I did a quickie (that means poorly drawn) hand-drawn Multiplex comic and posted it as the new TopWebComics vote incentive, so give Multiplex your support and check it out! (It'll go up as a Deleted Scenes strip sooner or later, but… y'know. Multiplex needs your love.)
One last reminder for my Chicago-area readers: First Aid Comics' Crystal Lake Show this Saturday, December 4th, from 10am – 3pm. Me, a couple of other cartoonists, a few actors — and also Spider-Man and Santa Claus. I have a hunch Santa will have a longer line than me, and I'm okay with that. I'll have copies of the book and T-shirts for $15 apiece (what a bargain!), and of course I'll be happy to do sketches, too.
Admission is only $1 — or FREE if you bring a canned good or new toy. Canned goods will go to the Wauconda-Island Lake Food Pantry, and toys will go to Toys for Tots, so don't cheap out on 'em! They're for a good cause!
If you can't make it out to the show but you want to get something from the Multiplex Store for someone you love — including but not limited to yourself — don't delay in getting your orders in before Christmas and/or whatever else you're celebrating around the winter solistice. I use Media Mail shipping for the books (it's the only way to keep the cost down on a book that weighs nearly 2 lbs.), which can occasionally be a liiittle slow, so I'd say you've got another week or so to safely order the book for arrival before the holiday!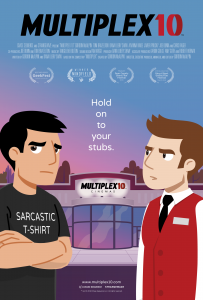 Multiplex 10 is here!
Although Multiplex 10 has ended, an animated prequel/reboot called Multiplex 10 was funded through Kickstarter in 2017 and is NOW AVAILABLE for rent or purchase on Vimeo On Demand, Amazon Video, and elsewhere! And an all-new, irregularly-updated Multiplex 10 web series (set after the short film) recently launched on YouTube! Learn more about the web series on the official Multiplex 10 website!
Stay up to date on all things Multiplex, Multiplex 10 and me (a.k.a. Gordon McAlpin) by subscribing to my newsletter!