Notes from the Manager
Related Strips: #514: A Flesh Wound; #524: Hazed and Confused, Part One; #525: Hazed and Confused, Part Two; #528: I Never Kid, Part One; #529: I Never Kid, Part Two
Since I promised a Wednesday strip, here's a Wednesday strip — but unfortunately a last-minute freelance gig added to the usual Thanksgiving family obligations are going to get in the way of having a third strip up this week. Hopefully three next week. Sorry!
(11/26 UPDATE: You can see a new hand-drawn Multiplex strip — or the pencils, anyway — over at the Deleted Scenes blog, though!)
As many of you know, I'm back to looking for freelance work to make up for the time spent working on Multiplex: Enjoy Your Show full-time earlier this year (which was, y'know, all of my living expenses). It's sort of annoying to be home spending so much time looking for paying work when I could be drawing more comics instead, but since the comics don't pay all my bills, I gotta look for work that does. :(
That said, if you want to pick up the book or a T-shirt in the near future, I will be having a sale running from Black Friday through Cyber Monday… Stop by the store on Friday to see what's up!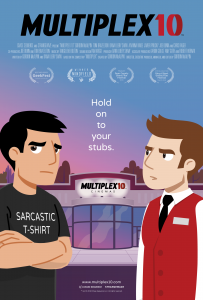 Multiplex 10 is here!
Although Multiplex 10 has ended, an animated prequel/reboot called Multiplex 10 was funded through Kickstarter in 2017 and is NOW AVAILABLE for rent or purchase on Vimeo On Demand, Amazon Video, and elsewhere! And an all-new, irregularly-updated Multiplex 10 web series (set after the short film) recently launched on YouTube! Learn more about the web series on the official Multiplex 10 website!
Stay up to date on all things Multiplex, Multiplex 10 and me (a.k.a. Gordon McAlpin) by subscribing to my newsletter!