Notes from the Manager
Related Strips: #98: There's a First Time for Everything; #513: So Serious
Continuity error: The supply closet door opens the opposite direction that it did in #98.
If there was any doubt, you can look closely at Jason's palm in panel 5 and see the tubing Jason is using to squirt blood out of his hand. I generally try to make Kurt's special effects pranks at least somewhat realistic. (If someone has a missing arm, for instance, they have it pulled behind their back.)
The new guy in this strip is named Rookie. Or, that's not his name, but that's what he's going to be called.
If you've somehow managed to avoid every fifth word from my mouth in the past several months, the first Multiplex print collection — Multiplex: Enjoy Your Show — is now available. As in, it is shipping. As in, you pay me money, you get the book as soon as the USPS can manage. No more Kickstarter pledging or pre-orders: money —> book —> happiness.
There IS one preorder going on, still: The Michael Bay is the Devil T-shirt design is six shirts shy of getting printed. (And by the way, if you own a store and would like to carry them, I can get them for you wholesale! Just e-mail me for details.)
Multiplex News & Updates
Bonus comics, drawings, and
other awesome stuff
Saturday, July 1, 2017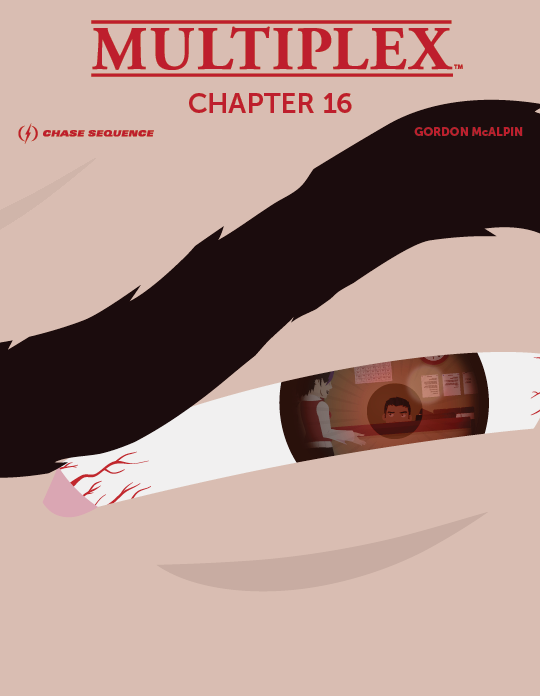 $3+ Patreon supporters get this one for free (until the next eBook is available), but for the rest of youse: The Multiplex: Chapter 16 eBook is now available!
Chapter 16 collects strips #339 –362 from the Multiplex archives, plus four bonus comics and one "extended scene" not found in the archives! Chapter 16 costs $1.99.
Supporting the Multiplex chapter eBooks helps make future Multiplex print collections possible. Thank you for your support!
Other Recent Posts