Notes from the Manager
Related Strips: #512: Say It, Don't Spray It
Thank you to everybody who made the Multiplex: Enjoy Your Show release party at Third Coast Comics a great time!
Before Thursday rolls around, the book will be officially on sale, but books are actually already shipping! The last batch of Kickstarter books (and some pre-orders) will be shipping TODAY.
Today and tomorrow, I'll be working on getting all of the Artist's Edition sketches drawn (I will probably share a couple of them with you at the Deleted Scenes blog, since I haven't had time to draw or write anything else in the past week to make it more interesting over there).
I hope to get the promised Black Dynamite review and a review of The Town up over there this week, so keep checking back. Short version of The Town: it's a terrific crime flick. Less heavy or thought-provoking than Gone Baby Gone by far, but smart, funny, and very, very tense in spots, with three great robberies anchoring the film.
Pre-orders for the Michael Bay is the Devil T-shirt are still going! We are about 10 shirts shy of printing up the shirts — so it's moving along, but it's not a sure thing yet. If we don't get them by October 4th, I'll be forced to cancel the orders and refund everybody. And that would make me sad, because I totally want one of these, too.
SUPPORT GORDON McALPIN ON PATREON!
Although Multiplex has ended, thanks to readers like you on Patreon, the Multiplex 10 will stay open for business! I'll be posting bonus comics from future print collections, Multiplex Movie Review strips, updates on the upcoming Multiplex 10 animated short, and, of course, other non-Multiplex stuff.
In addition to the warm, soothing feeling of being a patron of the arts, Patreon supporters get access to free Multiplex eBooks, sneak previews of upcoming comics and other behind the scenes peeks, sketch giveaways, and more!
Multiplex News & Updates
Bonus comics, drawings, and
other awesome stuff
Saturday, April 29, 2017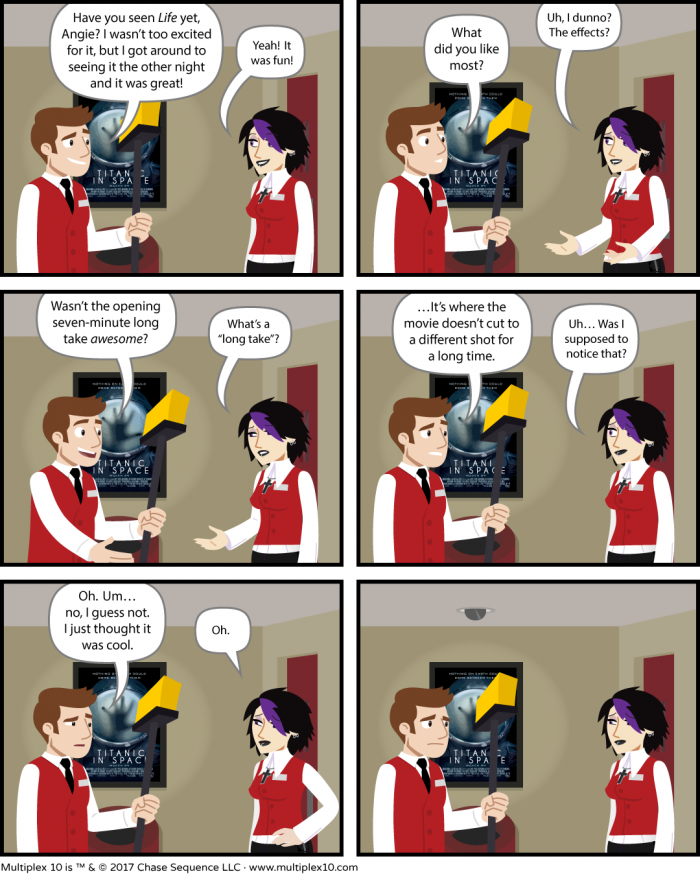 Angie, like Franklin, is another significant character from Multiplex who only gets a brief cameo in the pilot episode. So here she is in a Multiplex 10 comic strip.
At nearly $13,250 (as I write this), we're allllllmost at 90% funding with EIGHT DAYS to go. We need your support to make this pilot happen — and to help distribute it so that we can make more than just one episode! Check out the Multiplex 10 Kickstarter project page today! (Please.)
Also, in case you missed it, there were a couple of new… uh, I'm not sure how to refer to them. "Promo comics," I guess? The Multiplex 10 versions of Melissa & Becky and Franklin introduce themselves and talk about the animated short and one of the Kickstarter milestones, like the Kurt & Jason one I posted here a while ago. I posted those around the social medias and the separate, Multiplex 10-specific site, which some of you may not know about.
Other Recent Posts