Notes from the Manager
Related Strips: #126: Because Crying Equals Drama
So, alas, with less than 24 hours left, it looks like the Multiplex Pre-Order Sales Drive will fall short of the goal by nearly $2,000. This one's not gonna come down to the wire, I don't think. We still got a healthy number of book pre-orders, and the Michael Bay is the Devil T-shirt pre-orders are moving along quite well, though, so thank you to everyone who donated or ordered something through the Multiplex Store!
Budget-conscious Multiplex fans may want to order their copies of the book through Barnes&Noble.com, who's offering it for 32% off. While I don't personally get nearly as much money from B&N sales, ordering it from there may encourage them to order more, and to even stock some in their brick-and-mortar stores, so it's not a bad thing! (And consider leaving a review of the book, too!)
I had to put off the next Multiplex Movie Club review (of Black Dynamite) 'til next week. All the pre-orders are piling up, I'm falling behind on Artist's Edition sketches (some of which I might share soon), and the book's gotta come first. So you have another few days to watch it before I post my review! WATCH IT!
The girl in the last panel here is a new staff member — namely Angie Booth, the Kickstarter backer who won a "job" at the Multiplex 10 Cinemas. Or, it's supposed to be her, anyway. The front angle looks more like her. Anyway, sorry, Angie! It's supposed to look like you.
You'll find out more about the Multiplex version of Angie soon — and meet a few OTHER new staff kids. Or heroes are all supervisors now, so it's about time they had someone to supervise, huh?
For the last time, if you are in the Chicago area, the Multiplex: Enjoy Your Show release party/signing will be at Third Coast Comics this Saturday (not Friday, as I mistakenly said on Monday) from 4–7pm, followed by the monthly Chicago Comic Book Meetup, where I'll be a special guest. Stop in, get a copy of the book early, and have a good time! Bring booze!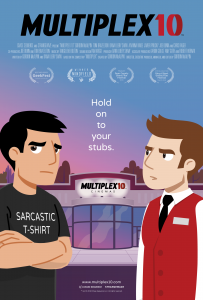 Multiplex 10 is here!
Although Multiplex 10 has ended, an animated prequel/reboot called Multiplex 10 was funded through Kickstarter in 2017 and is NOW AVAILABLE for rent or purchase on Vimeo On Demand, Amazon Video, and elsewhere! And an all-new, irregularly-updated Multiplex 10 web series (set after the short film) recently launched on YouTube! Learn more about the web series on the official Multiplex 10 website!
Stay up to date on all things Multiplex, Multiplex 10 and me (a.k.a. Gordon McAlpin) by subscribing to my newsletter!