Notes from the Manager
Related Strips: #294: Identity Crisis; #530: Outie 5000
First of three short-ish ones this week, if all things go according to plan. Come back WEDNESDAY. Or, y'know, don't and just come back on Thursday and Friday. Either way.
Yes, I know I'm recycling a punch line here (from #294, hence it being one of the Related Strips). But there's a reason. It's subtle, maybe. But there is a reason… which will be revealed soonish.
Let's have some fun. If you want to leave a comment for today's strip, go to Yahoo! Babel Fish and translate it into another language, then translate it BACK into English, and post that instead. (Sometimes to make it even more fun, you can phrase your initial sentence[s] awkwardly, just to throw Babel Fish a curveball.)
As always, thank you for the multiplexing of reading.
(Aw, that's wasn't very good.)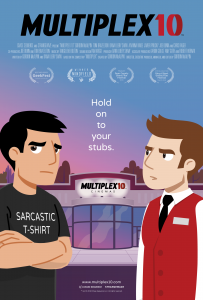 Multiplex 10 is here!
Although Multiplex 10 has ended, an animated prequel/reboot called Multiplex 10 was funded through Kickstarter in 2017 and is NOW AVAILABLE for rent or purchase on Vimeo On Demand, Amazon Video, and elsewhere! And an all-new, irregularly-updated Multiplex 10 web series (set after the short film) recently launched on YouTube! Learn more about the web series on the official Multiplex 10 website!
Stay up to date on all things Multiplex, Multiplex 10 and me (a.k.a. Gordon McAlpin) by subscribing to my newsletter!