Notes from the Manager
Related Strips: #226: Agree to Disagree?, Part One; #227: Agree to Disagree?, Part Two; #228: Agree to Disagree?, Part Three; #229: Flies, Vinegar, and Honey; #230: Life, the Universe, and Everything; #232: Blind Faith; #287: Personal Religulosity, Part One; #288: Personal Religulosity, Part Two
This strip takes place in an as-yet-unnamed 24-hour, '50s-themed diner that just-so-happens to be decorated with movie posters from the decade. (I couldn't resist.) It's located down the strip mall from the Multiplex 10 and Flickhead Video, and will probably show up again sooner or later.
I've been really taken aback by the enthusiastic response to this story arc, particularly from my Christian readership. I hope this last installment of the three-parter didn't ruin everything. Anyway, as always, thank you for reading.
The voting round continues through October 14th for Frumph.net's Webcomics Readers Choice Awards! Angie has been nominated for (Best) Supporting Character, which is really cool in and of itself — but If she wins, I will do a bonus strip "acceptance speech"! She's currently in the lead, but if you haven't voted yet, be sure to help keep her there!
(Oh, and by the way, the desktop picture featuring Sunny as Tinker Bell that — previously available only as a vote incentive — has been added to the Extras page.)
UPDATE (10/11): A rather lengthy interview with me has gone up at ComixTalk. It's my second interview with them; the first was back in 2006, when Multiplex was still a new kid on the block.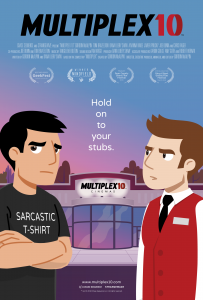 Multiplex 10 is here!
Although Multiplex 10 has ended, an animated prequel/reboot called Multiplex 10 was funded through Kickstarter in 2017 and is NOW AVAILABLE for rent or purchase on Vimeo On Demand, Amazon Video, and elsewhere! And an all-new, irregularly-updated Multiplex 10 web series (set after the short film) recently launched on YouTube! Learn more about the web series on the official Multiplex 10 website!
Stay up to date on all things Multiplex, Multiplex 10 and me (a.k.a. Gordon McAlpin) by subscribing to my newsletter!