Notes from the Manager
Related Strips: #16: That's Really Interesting ; #109: Dare to Dream; #210: Second Verse, Same As the First; #230: Life, the Universe, and Everything; #287: Personal Religulosity, Part One; #288: Personal Religulosity, Part Two; #289: Personal Religulosity, Part Three
Another related strip that's not in the archives — #23½: Proud and Prejudiced — can be found in the first (and only, so far) Multiplex eBook, starting on page 29, or over at my Flickr page.
While #288 mentions that Becky is Jewish, she's non-practicing. Which explains why she's eating a pepperoni pizza in this strip and #53, as well as her "like me" comment in panel 2 of this strip.
Incidentally, I do highly recommend both Anna Karenina and Karen Armstrong's A History of God, to believers and non-believers alike. I haven't seen the 1977 BBC version of Anna Karenina Jason's looking at, but it is 550 minutes long (it was a 10-episode mini-series).
UPDATE (10/14): Heads up! I've been interviewed by ComixTalk again.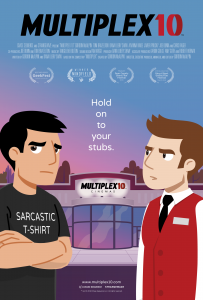 Multiplex 10 is here!
Although Multiplex 10 has ended, an animated prequel/reboot called Multiplex 10 was funded through Kickstarter in 2017 and is NOW AVAILABLE for rent or purchase on Vimeo On Demand, Amazon Video, and elsewhere! And an all-new, irregularly-updated Multiplex 10 web series (set after the short film) recently launched on YouTube! Learn more about the web series on the official Multiplex 10 website!
Stay up to date on all things Multiplex, Multiplex 10 and me (a.k.a. Gordon McAlpin) by subscribing to my newsletter!