Notes from the Manager
Credit where credit is due: the star field in panel one was modified from some stock art by Todd Harrison. The Japanese Kanji symbol on Angie's shirt stands for "love," by the way.
For some more reading about Expelled, check out Michael Shermer's Scientific American article, "Expelled: No Intelligence Allowed — Ben Stein Launches a Science-Free Attack on Darwinism."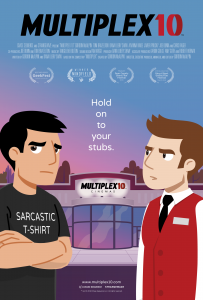 Multiplex 10 is here!
Although Multiplex 10 has ended, an animated prequel/reboot called Multiplex 10 was funded through Kickstarter in 2017 and is NOW AVAILABLE for rent or purchase on Vimeo On Demand, Amazon Video, and elsewhere! And an all-new, irregularly-updated Multiplex 10 web series (set after the short film) recently launched on YouTube! Learn more about the web series on the official Multiplex 10 website!
Stay up to date on all things Multiplex, Multiplex 10 and me (a.k.a. Gordon McAlpin) by subscribing to my newsletter!