Notes from the Manager
Thanks to Harrison Pious of Chicago's very own My Little World for the guest strip today. Some of you will remember Mr. Pious's name from last year, when I decreed him Reader of the Year in April, for bringing me a flask of brandy at C2E2. I love brandy. I love Harrison (he's a handsome guy). And I love My Little World. Checkitout.
As of today, I am now a resident of Minneapolis. So… hello, Minneapolis. I woke up in you this morning.
Also as of today, Multiplex: Enjoy Your Show is available in comics shops (via Diamond)! If you've wanted to flip through the book before deciding to pick one up, now's your chance! If your local shop didn't order one, tell them why they should have and send 'em over here — to the book's product page, ideally — so they know how to order it.
(You can get to them through the calendar navigation in the left sidebar, but not — as long-time readers know — through the Previous and Next buttons. Those are for my updates only!)
Sorry about yesterday's image snafu. I was without internet and so I couldn't fix it until late in the day. If you didn't get the chance to see Tuesday's guest strip, be sure to check it out today!
SUPPORT GORDON McALPIN ON PATREON!
Although Multiplex has ended, thanks to readers like you on Patreon, the Multiplex 10 will stay open for business! I'll be posting bonus comics from future print collections, Multiplex Movie Review strips, updates on the upcoming Multiplex 10 animated short, and, of course, other non-Multiplex stuff.
In addition to the warm, soothing feeling of being a patron of the arts, Patreon supporters get access to free Multiplex eBooks, sneak previews of upcoming comics and other behind the scenes peeks, sketch giveaways, and more!
Multiplex News & Updates
Bonus comics, drawings, and
other awesome stuff
Saturday, April 29, 2017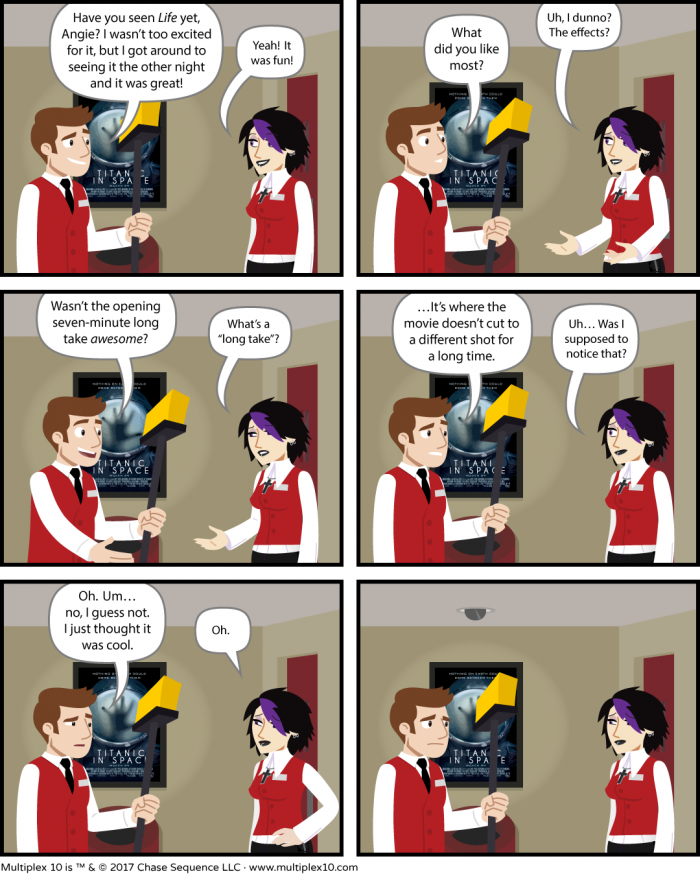 Angie, like Franklin, is another significant character from Multiplex who only gets a brief cameo in the pilot episode. So here she is in a Multiplex 10 comic strip.
At nearly $13,250 (as I write this), we're allllllmost at 90% funding with EIGHT DAYS to go. We need your support to make this pilot happen — and to help distribute it so that we can make more than just one episode! Check out the Multiplex 10 Kickstarter project page today! (Please.)
Also, in case you missed it, there were a couple of new… uh, I'm not sure how to refer to them. "Promo comics," I guess? The Multiplex 10 versions of Melissa & Becky and Franklin introduce themselves and talk about the animated short and one of the Kickstarter milestones, like the Kurt & Jason one I posted here a while ago. I posted those around the social medias and the separate, Multiplex 10-specific site, which some of you may not know about.
Other Recent Posts