Notes from the Manager
Related Strips: #610: Gods and Monster Movies; #611: Fear Pressure
Despite the fact that all of my belongings are in boxes, there will be five updates this week — but three of them will be guest strips. (Sorry if you just sighed at that little caveat.)
I don't know which day my seecond update will go up, because I still have to draw it, after I've moved myself, my girlfriend, and our two cats to Minneapolis tomorrow, so… you'll just have to keep coming back. Let's pretend it's a belated 6th anniversary party, alright?
I hope you enjoy the guest strips, and I'll see you soon.
By the way — Multiplex: Enjoy Your Show (Book 1) hits comics shops' shelves this Wednesday, August 3rd — although a few comics shops apparently got theirs last week, so… whatever the deal is, check it out at your local comics shop. Or, if they haven't ordered one, scold them about it and make them order it! Send them to the Multiplex: Enjoy Your Show product page here at the site for more details.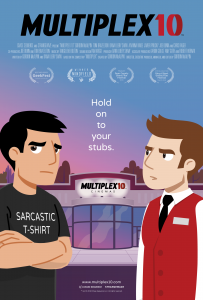 Multiplex 10 is here!
Although Multiplex 10 has ended, an animated prequel/reboot called Multiplex 10 was funded through Kickstarter in 2017 and is NOW AVAILABLE for rent or purchase on Vimeo On Demand, Amazon Video, and elsewhere! And an all-new, irregularly-updated Multiplex 10 web series (set after the short film) recently launched on YouTube! Learn more about the web series on the official Multiplex 10 website!
Stay up to date on all things Multiplex, Multiplex 10 and me (a.k.a. Gordon McAlpin) by subscribing to my newsletter!