Notes from the Manager
Thanks to Paul Briske, who does Noah Conners Lives!, for the fantastical glimpse into Kurt Bollinger's family life. (No, this isn't canon. But Kurt's dad's name is Ralph! So you've learned one canon fact today. Huzzah!)
Today, August 1st, all of my belongings are in boxes. Tomorrow, I will offiicially be a resident of the fine state of Minnesota — specifically Minneapolis — and on Wednesday, I'll finally be able to start working on Multiplex again… I think… in-between all the un-packing my girlfriend and I have to do… once our things arrive in a few more days.
(I made sure to pack up the car with the bare minimum of computer equipment needed to work on Multiplex, because I love you.)
Once again: there will be five updates this week (three of them guest strips, mind you). I ain't telling which day my second strip will go up, 'cause it's not drawn yet — so you'll just have to come back each and every day this week.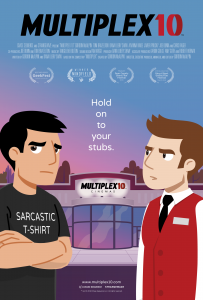 Multiplex 10 is here!
Although Multiplex 10 has ended, an animated prequel/reboot called Multiplex 10 was funded through Kickstarter in 2017 and is NOW AVAILABLE for rent or purchase on Vimeo On Demand, Amazon Video, and elsewhere! And an all-new, irregularly-updated Multiplex 10 web series (set after the short film) recently launched on YouTube! Learn more about the web series on the official Multiplex 10 website!
Stay up to date on all things Multiplex, Multiplex 10 and me (a.k.a. Gordon McAlpin) by subscribing to my newsletter!