Notes from the Manager
Related Strips: #52: Young Love
Welcome, new readers from C2E2! If I didn't get the chance to explain it to you, the humor in Multiplex is largely character-based, not gag-based, so it would be best for you to start from the beginning.
If you aren't familiar at all with the cast of Kick-Ass, you might not know that Chloe Grace Moretz — a.k.a. Hit Girl — is 13. (She was 11 when she filmed Kick-Ass.)
Anyway!
Apparently I come across as grumpy on the internet. That's because I use Twitter to bitch about shit and like to swear. I'm actually a very nice person when you meet me, as those of you who visited me at C2E2 (hopefully) realized. :) Thanks to everybody who came out and chatted with me or bought stuff! You rock.
The con was a blast, Joel Watson (Hijinks Ensue) couldn't have been more fun to share a table with — and as I found out on a Friday night karaoke excursion with a ton of other fellow cartoonists, he is a force to be reckoned with at singing "Mr. Roboto" by Styx. I kid you not. S. Dave Shabet (Dead Winter) also does an awesome James Hetfield impression, as well.
And thanks again to Harrison Pious (My Little World) for bringing me a flask of brandy. You get the Reader of the Year award, Harrison. All you Kickstarter backers collectively got it last year. :)
Multiplex News & Updates
Bonus comics, drawings, and
other awesome stuff
Saturday, July 1, 2017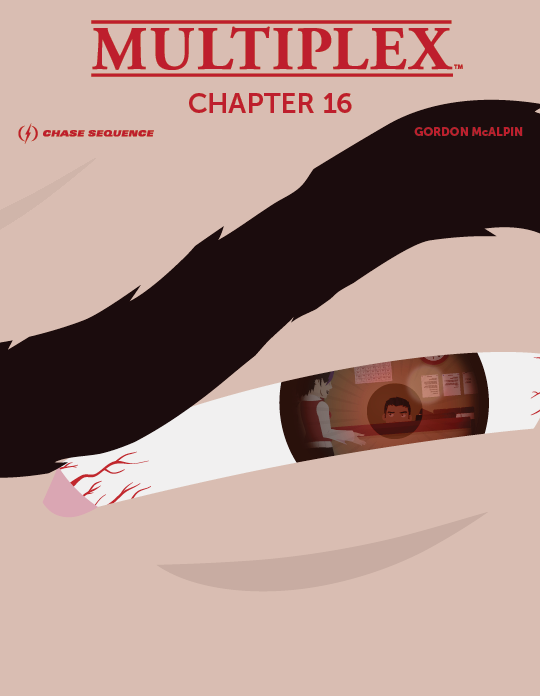 $3+ Patreon supporters get this one for free (until the next eBook is available), but for the rest of youse: The Multiplex: Chapter 16 eBook is now available!
Chapter 16 collects strips #339 –362 from the Multiplex archives, plus four bonus comics and one "extended scene" not found in the archives! Chapter 16 costs $1.99.
Supporting the Multiplex chapter eBooks helps make future Multiplex print collections possible. Thank you for your support!
Other Recent Posts