Notes from the Manager
Related Strips: #775: Early to Rise; #780: Broken Clocks Crying Wolf
Except for Nathan Fillion (sorry, those of you who got your hopes up) and Chiwetel Ejiofor, all of those names have actually popped up in rumors for Star Wars casting — not necessarily from Latino Review, but they seem to be doing their usual "throw shit at the wall, hope something sticks" method of rumor mongering.
I don't doubt that many of these people have had meetings, possibly even read for the film, but I do doubt that any of them have been cast — especially Benedict Cumberbatch.
P.S. No one is allowed to complain about the Khan thing, because it was way passed the statute of limitations on that spoiler.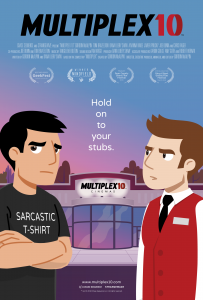 Multiplex 10 is here!
Although Multiplex 10 has ended, an animated prequel/reboot called Multiplex 10 was funded through Kickstarter in 2017 and is NOW AVAILABLE for rent or purchase on Vimeo On Demand, Amazon Video, and elsewhere! And an all-new, irregularly-updated Multiplex 10 web series (set after the short film) recently launched on YouTube! Learn more about the web series on the official Multiplex 10 website!
Stay up to date on all things Multiplex, Multiplex 10 and me (a.k.a. Gordon McAlpin) by subscribing to my newsletter!