Notes from the Manager
Related Strips: #58: Familiarity Breeds Contentment
At least one of the movies Jason names could be seen as a spoiler, so… spoiler warning, obviously. Don't come crying to me if you click on that link and didn't want to know.
Anyway, this seems to be the consensus about Oblivion: it's pretty, it's got good action, and so incredibly derivative that you'll get a little bored. Aside from the movies Jason named (at least one of which is pretty apparent from the trailer, but whatever), there are supposedly nods to Planet of the Apes, 2001: A Space Odyssey, Star Wars, Mad Max, La Jetée, Minority Report, The Omega Man and Blade Runner.
EDIT: A recent LA Times article cites a bunch of reviews talking about Oblivion's derivative nature. Give it a look-see if you're curious.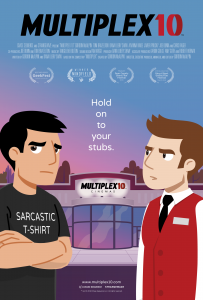 Multiplex 10 is here!
Although Multiplex 10 has ended, an animated prequel/reboot called Multiplex 10 was funded through Kickstarter in 2017 and is NOW AVAILABLE for rent or purchase on Vimeo On Demand, Amazon Video, and elsewhere! And an all-new, irregularly-updated Multiplex 10 web series (set after the short film) recently launched on YouTube! Learn more about the web series on the official Multiplex 10 website!
Stay up to date on all things Multiplex, Multiplex 10 and me (a.k.a. Gordon McAlpin) by subscribing to my newsletter!