Notes from the Manager
Related Strips: #674: Cut; #675: In Fear of Fear; #676: Walk Away; #677: This Unrest; #765: Happy to See You
I'm starting to worry that too many of the Multiplex storylines end with Jason apologizing for everything even when it's not really his fault. Write what you know…?
So grad school is done for the semester! (Whew!) And now that this strip is up (sorry it was late), I'll get cracking on Multiplex: There and Back Again… again… starting tomorrow morning.
I've got some movies to catch up on, too. What should I see first? Skyfall, The Hobbit, or… something else? (PLEASE — absolutely no spoiler talk below!)
Last-minute Christmas shoppers, take note of the Amazon affiliate link below! If you're going to get stuff through Amazon anyway, clicking over to Amazon through that link (or this one) before shopping there tosses me a small kickback… meaning you can help support Multiplex at absolutely no cost to you! Win/win. (Well, your local mom and pop shops lose, because it's Amazon. But still.)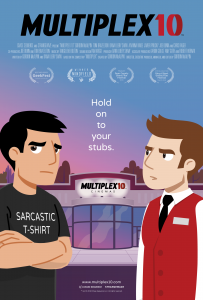 Multiplex 10 is here!
Although Multiplex 10 has ended, an animated prequel/reboot called Multiplex 10 was funded through Kickstarter in 2017 and is NOW AVAILABLE for rent or purchase on Vimeo On Demand, Amazon Video, and elsewhere! And an all-new, irregularly-updated Multiplex 10 web series (set after the short film) recently launched on YouTube! Learn more about the web series on the official Multiplex 10 website!
Stay up to date on all things Multiplex, Multiplex 10 and me (a.k.a. Gordon McAlpin) by subscribing to my newsletter!