Notes from the Manager
Related Strips: #551: Digging a Hole, Part Two; #558: The Roommate; #579: Don't Even Joke About That; #580: Things Could Be Worse; #603: Just Desserts, Part Two
The angry blonde guy in the back of panels 5 and 6 is Mike from Shortpacked! (except, you know, vectorized). Since David misappropriated Jason (and the Multiplex 10) for his comic earlier this week, and it fit so well with the current arc in Multiplex I thought I'd canonize it, sorta.
See you Monday.
If you've already seen Transformers: Dark of the Moon, how was it? Not being a fan of the first two, I'm not about to run out and see it very soon, but I am interested in seeing downtown Chicago get blown up real good on film, so I'll probably see it eventually.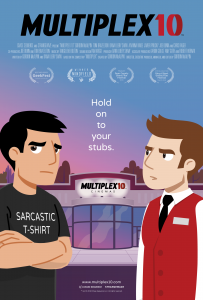 Multiplex 10 is here!
Although Multiplex 10 has ended, an animated prequel/reboot called Multiplex 10 was funded through Kickstarter in 2017 and is NOW AVAILABLE for rent or purchase on Vimeo On Demand, Amazon Video, and elsewhere! And an all-new, irregularly-updated Multiplex 10 web series (set after the short film) recently launched on YouTube! Learn more about the web series on the official Multiplex 10 website!
Stay up to date on all things Multiplex, Multiplex 10 and me (a.k.a. Gordon McAlpin) by subscribing to my newsletter!