Notes from the Manager
Related Strips: #63: Take a Stand; #248: Training Day; #258: Parental Discretion Is the Better Part of Valor; #591: Blood Thirst; #592: It's All Fun and Games…
Well, it looks like a last-minute freelance gig fell into my lap this week, and I'm planning on heading up to Minneapolis this weekend to find an apartment (since, y'know, I'm moving up there in August) — so, it's highly unlikely I'll get the three updates I had hoped to do. Maybe next week…
See you (sigh) on Thursday. Kurt will be in it, I promise. In fact, you can see proof (and a tease of what happens in the strip) by voting for Multiplex at TopWebComics.
Happy birthday to my brother Lawrence, who programmed the Multiplex website and the iPhone app!
The customers you see here are Bad Dad and Pumpkin, who first appeared in a bonus comic for the Chapter 1 eBook, although I've used them a number times since then. I've tweaked Pumpkin's character design a bit here to show that she's getting older. (I've actually made her taller gradually over the years, but this time, I've changed her model in more significant ways, like her hair and eyes.)
So! Those of you who saw X-Men: First Class, what did you think? Worth seeing? Was it another X-Men 2 or another X-Men: The Last Stand…?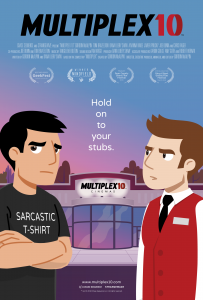 Multiplex 10 is here!
Although Multiplex 10 has ended, an animated prequel/reboot called Multiplex 10 was funded through Kickstarter in 2017 and is NOW AVAILABLE for rent or purchase on Vimeo On Demand, Amazon Video, and elsewhere! And an all-new, irregularly-updated Multiplex 10 web series (set after the short film) recently launched on YouTube! Learn more about the web series on the official Multiplex 10 website!
Stay up to date on all things Multiplex, Multiplex 10 and me (a.k.a. Gordon McAlpin) by subscribing to my newsletter!