Notes from the Manager
Related Strips: #8: The Blogger; #15: The Blogger Returns ; #46: The Blogger Strikes Back
There are a few other strips with the Blogger in them, but they're not as important.
There are probably a few of you who thought the last strip was a cliffhanger (I know at least one of you did, because he said so in a comment). Sorry. :) It wasn't a cliffhanger. It was an ending. I wasn't sure if I would revisit New Year's after midnight downstairs or not (and ultimately, obviously, decided not), but Jason and Becky's after-midnight time is between the two of them.
If it makes you feel better, they probably shared a friendly peck, but I know you guys, and I know some of you would have blown it out of proportion. ;)
Anyway. For those of you who don't follow the Deleted Scenes updates yet: I reviewed Tangled and The King's Speech last week! And I'll try to get a review of The Green Hornet up later this week (I'll be seeing it tomorrow night thanks to AICN's Capone).
Thanks to everybody who posted a guest strip in the last couple of weeks: Bill Walko, Iris Amelia, Daniel Farrelly, and Pizdzius Swedzioszek! I'll get them added to the Guest Strips section very soon, I swear. Holidays are hectic, y'know?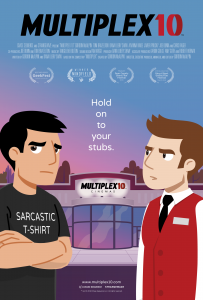 Multiplex 10 is here!
Although Multiplex 10 has ended, an animated prequel/reboot called Multiplex 10 was funded through Kickstarter in 2017 and is NOW AVAILABLE for rent or purchase on Vimeo On Demand, Amazon Video, and elsewhere! And an all-new, irregularly-updated Multiplex 10 web series (set after the short film) recently launched on YouTube! Learn more about the web series on the official Multiplex 10 website!
Stay up to date on all things Multiplex, Multiplex 10 and me (a.k.a. Gordon McAlpin) by subscribing to my newsletter!