Notes from the Manager
Related Strips: #73: Look, Up in the Sky; #142: You Got Some 'Splainin' to Do; #143: Phoning It In; #376: Hiding in Plain Sight; #377: History Lesson
Aaand… that's it for Chapter 20 and Book 4 of Multiplex. There will be 12 Books in all, so we're officially at the 1/3 point in Multiplex's main story (although not necessarily in terms of numbers of strips).

Book 5 begins on Thursday. See you then.
In case you don't follow me on Twitter or aren't a fan of Multiplex at Facebook, you may not know that there's a new addition to the Multiplex Store today — prints!
For $15 (which seems to be the going rate for these things from webcartoonists), you can get a 13"x19" print of your favorite Multiplex strip on archival quality glossy paper. There's actually a very limited selection right now, but if you'd really like to order one that isn't currently available, feel free to e-mail me, and I'll see what I can do. (Some strips simply aren't possible to produce that large, and others would take a bit of clean-up/reworking to look good — from a technical standpoint, that is, but also from an artistic one.)
Since I'm producing them myself (on a Canon PIXMA iX7000, if you're curious), you can bet the color reproduction will be as good as possible, and I'm absolutely thrilled with the sharpness of the vector art when it's scaled up to size.
UPDATE: Gretchen's bio strip from the upcoming Chapter 4 eBook has been added to her Cast page.
UPDATE (Thursday, March 24): Thursday's comic will be LATE. Sorry! You'd think that being a full-time cartoonist would mean I would get my strips done, but I get side-tracked on other (Multiplex-related) things a bit too easily, and then other things happen, and things. So, sorry!
But, if you aren't a member of the Club of Awesome, you can read a handful of new-to-you Multiplex stuff in the Chapter 4 eBook, which is available for free online, or 99¢ for the high definition edition: Chapter 4 has 4 bonus strips, 1 guest strip, and 2 extended scenes. The HD edition also has four character bios not in the online edition… since they're in the Cast page already.
Chapter 5 will have 8 bonus strips, so it will take two to three weeks to finish, and the Star Wars prequel (also 8pp) will take about the same amount of time again.
SUPPORT GORDON McALPIN ON PATREON!
Although Multiplex has ended, thanks to readers like you on Patreon, the Multiplex 10 will stay open for business! I'll be posting bonus comics from future print collections, Multiplex Movie Review strips, updates on the upcoming Multiplex 10 animated short, and, of course, other non-Multiplex stuff.
In addition to the warm, soothing feeling of being a patron of the arts, Patreon supporters get access to free Multiplex eBooks, sneak previews of upcoming comics and other behind the scenes peeks, sketch giveaways, and more!
Multiplex News & Updates
Bonus comics, drawings, and
other awesome stuff
Saturday, April 29, 2017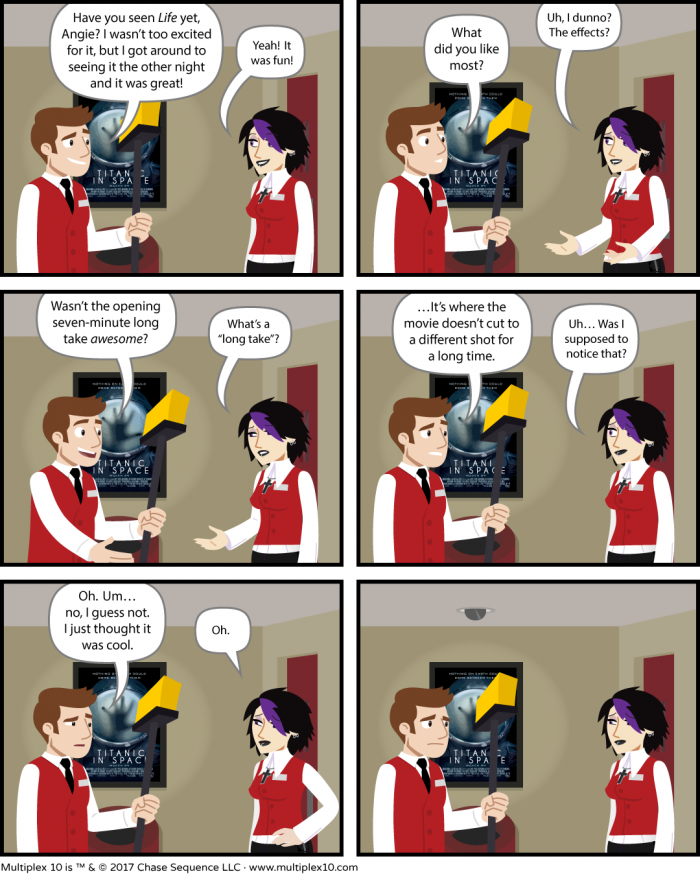 Angie, like Franklin, is another significant character from Multiplex who only gets a brief cameo in the pilot episode. So here she is in a Multiplex 10 comic strip.
At nearly $13,250 (as I write this), we're allllllmost at 90% funding with EIGHT DAYS to go. We need your support to make this pilot happen — and to help distribute it so that we can make more than just one episode! Check out the Multiplex 10 Kickstarter project page today! (Please.)
Also, in case you missed it, there were a couple of new… uh, I'm not sure how to refer to them. "Promo comics," I guess? The Multiplex 10 versions of Melissa & Becky and Franklin introduce themselves and talk about the animated short and one of the Kickstarter milestones, like the Kurt & Jason one I posted here a while ago. I posted those around the social medias and the separate, Multiplex 10-specific site, which some of you may not know about.
Other Recent Posts