Notes from the Manager
Related Strips: #376: Hiding in Plain Sight; #416: Past, Present and Future?, Part One; #428: Merry Whatever, Part Two
This is the first of a short arc featuring Devi and Jason, finishing off the current chapter — and Book 4, as well.
They are at the Davis Theater in Chicago this time around. You can see a few photos of the inside and out on my Flickr page (here's the photo I used for the big panel — don't give me grief for taking a few minor liberties with things like the lamp post and the lack of trash receptacle in front, please). You can read a bit about its history at Cinema Treasures, as well as this recent article at The Center Square Ledger (which happened to use a couple of my photos).
Some of you OCD fans will notice that the current chapter is now chapter 20, not 21; this is because I reorganized the strips in Book 2 to make it 5 chapters instead of 6. Some of the chapters were much too slim; I'd have felt bad (eventually) selling an eBook that was less than 24 pages long. (It's safe to say that until an eBook of a chapter is released, the actual strips included in each chapter may change, but the starting and stopping points for each book are, I think, pretty firm.)
Thank you again to Jackson Ferrell for Monday's guest strip, which can now be found in the Guest Strips section! Check out his comic Borderline Boy!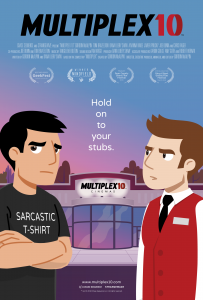 Multiplex 10 is here!
Although Multiplex 10 has ended, an animated prequel/reboot called Multiplex 10 was funded through Kickstarter in 2017 and is NOW AVAILABLE for rent or purchase on Vimeo On Demand, Amazon Video, and elsewhere! And an all-new, irregularly-updated Multiplex 10 web series (set after the short film) recently launched on YouTube! Learn more about the web series on the official Multiplex 10 website!
Stay up to date on all things Multiplex, Multiplex 10 and me (a.k.a. Gordon McAlpin) by subscribing to my newsletter!