Notes from the Manager
Related Strips: #244: Strangers in the Night, Part One
Sorry this was a little late! (But you can kind of see why, I suppose.)
The Kickstarter project just passed $9000 last night. I've got a little incentive/pledge drive thing going right now where, for every $250 we raise above $8500, I'll be giving away a free copy of the Multiplex/Memento parody mini-poster and a set of five buttons to one lucky backer. If we reach $10,000 by the time the strip goes up on November 12th, though, I'll give away ten copies. (Everyone who has pledged to date is eligible — except for people who have won previous giveaways and close personal friends of mine, because that wouldn't be fair.)
Don't forget that if you pledge, you get access to all the bonus content/updates, including the first two eBooks for free — even if you just pledge $1. Every little bit helps!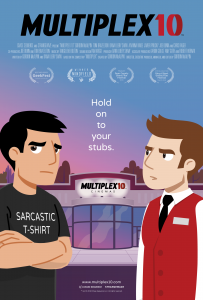 Multiplex 10 is here!
Although Multiplex 10 has ended, an animated prequel/reboot called Multiplex 10 was funded through Kickstarter in 2017 and is NOW AVAILABLE for rent or purchase on Vimeo On Demand, Amazon Video, and elsewhere! And an all-new, irregularly-updated Multiplex 10 web series (set after the short film) recently launched on YouTube! Learn more about the web series on the official Multiplex 10 website!
Stay up to date on all things Multiplex, Multiplex 10 and me (a.k.a. Gordon McAlpin) by subscribing to my newsletter!