Notes from the Manager
Related Strips: #100: Another Fine Mess…
I'd really like to push for the $10,000 level over these next couple of weeks, so that more of the print run is covered by the Kickstarter funds.
Towards that end, for every $250 we raise above $8500 I'll be giving away a free copy of the Multiplex/Memento parody mini-poster and a set of five buttons to one lucky backer. If we reach $10,000 by the time the strip goes up on November 12th, though, I'll give away ten copies. [NOTE: if you've already pledged, you are already eligible — but if you want to increase your chances of winning, you can always increase your pledge!]
That's ten days to raise $1,255 — that's actually less than we've averaged to date, so I'm sure we can do it.
Oh yeah: this week's strips are all set on Halloween night. (I'm always a little behind my holidays.) I'm not 100% sure if it'll be a three-parter or not just yet, though. Check back Thursday either way, then, and if it is a three-parter, then you'll have a bonus on Friday. (You could also subscribe to the RSS feed or follow my Twitter account, y'know.)
UPDATE (11/3): Here's a bonus strip for you today, though — but only if you're a Kickstarter backer. The second part of the "Hostile Makeover" story explaining Becky's redesign is up as the latest Kickstarter update. As with the previous one, it's set after #42 in the archives and will appear in the the second eBook, as well as the Multiplex: Book 1 collection, of course. The third strip in this series will be back at the Multiplex 10 and hopefully come a lot quicker. (You see why I need time off of work to finish the print book, now, don't you? Because with a day job and the regular update schedule, it would take me years to get the bonus material finished.)
UPDATE (11/4): Looks like there will only be one more regular update this week (but it's a long one). It'll post Thursday, possibly Friday.
UPDATE (11/5): Ran out of time (and energy), so #411 will post on Friday (or late Thursday night). Sorry! There is that bonus strip over at the Kickstarter update page, though. Pledge $1 and read it, then come back tomorrow. :) [Don't forget that if you pledge, you get access to all the bonus content/updates, including the first two eBooks for free — even if you just pledge $1. The second one isn't out yet, mind you. Soon!]
I would also like to point out that this is the first update I've totally missed in about two years. So nyeah.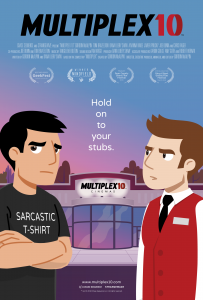 Multiplex 10 is here!
Although Multiplex 10 has ended, an animated prequel/reboot called Multiplex 10 was funded through Kickstarter in 2017 and is NOW AVAILABLE for rent or purchase on Vimeo On Demand, Amazon Video, and elsewhere! And an all-new, irregularly-updated Multiplex 10 web series (set after the short film) recently launched on YouTube! Learn more about the web series on the official Multiplex 10 website!
Stay up to date on all things Multiplex, Multiplex 10 and me (a.k.a. Gordon McAlpin) by subscribing to my newsletter!