Notes from the Manager
Related Strips: #339: Must Have the Precious; #343: The Thin Red Line; #351: Don't Be Crazy; #378: While You Were Gone, Part One; #379: While You Were Gone II: The Wrath of Keith; #404: Too Much Information; #405: The Sound of Silence
Since last Monday, we've raised just under $1400, meaning two lucky winners will have their Facebook/Twitter/whatever avatar drawn for them by yours truly in the Multiplex style. I'll contact the winners shortly.
We have $1610 remaining to guarantee that the project succeeds. With over 50 days left, I'm pretty confident that we can make it in three weeks on the outside, with plenty of time to spare. But let's not waste time! If we can raise more than the $7500 goal, we'll be able to cover more of the printing costs and use the money I have saved for promotion — or getting Book 2 started sooner rather than later.
The Fanboy Radio interview on Sunday went well, I think. Hopefully it will attract a few new readers to the strip — new readers who should really start from the beginning — or to the Kickstarter Project, which is most of what we discussed. (The episode, also featured Kickstarter co-founder Yancy Strickler and cartoonist Jamie Tanner (The Aviary), who has successfully funded his second graphic novel through Kickstarter.) The episode will be #528 and should be downloadable shortly.
I'm printing up a handful of copies of Multiplex: Chapter 1 (not to be confused with the Book 1 collection the Kickstarter Project is raising money for). If you want one now, please pre-order it. I won't be keeping very many of these on-hand; they're being printed by Ka-Blam (a print-on-demand service), so the profit margin is almost non-existent, even with a cover price of $3.99. To make it worth your while, I'll throw in a free copy of the HD edition eBook so you can compare the two. Add a T-shirt or a Memento mini-poster while you're at it! :)
UPDATE (10/20): By the way, the survey has ended, and between the comments I got there, the overall number of people who said yes they would buy one, and (well, okay, mainly) a couple of very impressive printing quotes I've received, the cover price of the book will now be $20.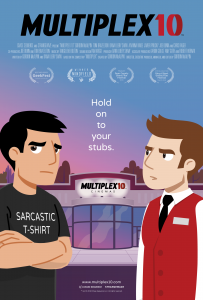 Multiplex 10 is here!
Although Multiplex 10 has ended, an animated prequel/reboot called Multiplex 10 was funded through Kickstarter in 2017 and is NOW AVAILABLE for rent or purchase on Vimeo On Demand, Amazon Video, and elsewhere! And an all-new, irregularly-updated Multiplex 10 web series (set after the short film) recently launched on YouTube! Learn more about the web series on the official Multiplex 10 website!
Stay up to date on all things Multiplex, Multiplex 10 and me (a.k.a. Gordon McAlpin) by subscribing to my newsletter!