Notes from the Manager
Related Strips: #308: Twilight of the Nerds
The comic Keith is reading is The Night Projectionist, by Bob Heske and Diego Yapura, a horror comic (in the vein of the old EC horror comics, but with a fresh, modern flavor) about — yep — a mysterious projectionist who has to protect a movie theater full of small-town yokels from a vampire attack. (No, this was not a paid product placement, although I almost made a product placement joke in this strip — but it felt too much like I was breaking the fourth wall.)
The first issue is now available at fine local comics shops everywhere (or at Heavy Ink, if you want to order it online). It's also being serialized online in black and white as a Night Projectionist Noir (the first twelve pages are up so far, and it almost looks cooler in black and white). This first issue is all set-up, though; the second issue is where the fun really begins. If reading isn't your thing, you can also wait for the movie adaptation from Myriad Pictures, which has already been announced.
Thanks are due to Studio 407 and Bob Heske for permission to use the cover art in this comic.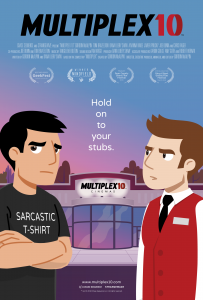 Multiplex 10 is here!
Although Multiplex 10 has ended, an animated prequel/reboot called Multiplex 10 was funded through Kickstarter in 2017 and is NOW AVAILABLE for rent or purchase on Vimeo On Demand, Amazon Video, and elsewhere! And an all-new, irregularly-updated Multiplex 10 web series (set after the short film) recently launched on YouTube! Learn more about the web series on the official Multiplex 10 website!
Stay up to date on all things Multiplex, Multiplex 10 and me (a.k.a. Gordon McAlpin) by subscribing to my newsletter!