Notes from the Manager
This strip originally appeared as an "interlude" to the last story arc, in the Multiplex Forum, on November 26 and 29.
The "boring ass Swedish flick" Kurt refers to is Let the Right One In — which I haven't seen yet but think looks really good (as I've said before, they're characters, not mouthpieces for my opinions of movies). It's about a 12 year old boy who befriends a young girl who happens to be a vampire, and it's been extremely well-reviewed, though a minority seems to complain that it is slow and uneventful.
Twilight, of course, is what it is: loved by some, feared and hated by others.…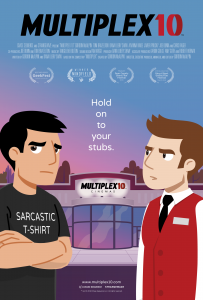 Multiplex 10 is here!
Although Multiplex 10 has ended, an animated prequel/reboot called Multiplex 10 was funded through Kickstarter in 2017 and is NOW AVAILABLE for rent or purchase on Vimeo On Demand, Amazon Video, and elsewhere! And an all-new, irregularly-updated Multiplex 10 web series (set after the short film) recently launched on YouTube! Learn more about the web series on the official Multiplex 10 website!
Stay up to date on all things Multiplex, Multiplex 10 and me (a.k.a. Gordon McAlpin) by subscribing to my newsletter!