Notes from the Manager
Related Strips: #298: Adding Injury to Insult; #301: Franklin Onassis, All American; #305: We Are Multiplex; #306: Life and Debt
While researching this strip, I stumbled across this artcle from the Chicago Sun-Times, from November 8, 2003: "Fires allegedly set in theaters: Feds say projectionist union members tried to intimidate owners." Man, truth is stranger than fiction. (UPDATE: Apparently the full 9-page release about their arrest and their 32-page indictment are available from the Department of Justice website. Scroll down to the November 7, 2003, entry — my birthday!)
But there you have it. Alas, Franklin is still fired from the Multiplex 10, but at least he's not out $600 in this economy, right? (Not that he seemed too worried about it in #306.…) Anyway, he'll land on his feet, though. Promise.
Sharp-eyed readers might notice that the calendar is on November in the background of panels 1–3, and that the poster is for Twilight. If you've never picked up on the pattern, the poster in the manager's station is always the big new release that week. This is because the whole football arc took place in (you guessed it) November, and this little epilogue to that takes place around Black Friday.
I'll be adding the "interlude strip" (which I posted in the Multiplex Forum around Thanksgiving) into the archives in the next few days, since this is where it fits chronologically. Aaand so for Monday, I can catch up with real time and, finally, step boldly into December.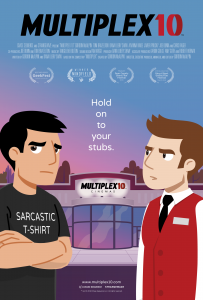 Multiplex 10 is here!
Although Multiplex 10 has ended, an animated prequel/reboot called Multiplex 10 was funded through Kickstarter in 2017 and is NOW AVAILABLE for rent or purchase on Vimeo On Demand, Amazon Video, and elsewhere! And an all-new, irregularly-updated Multiplex 10 web series (set after the short film) recently launched on YouTube! Learn more about the web series on the official Multiplex 10 website!
Stay up to date on all things Multiplex, Multiplex 10 and me (a.k.a. Gordon McAlpin) by subscribing to my newsletter!