Notes from the Manager
Related Strips: #301: Franklin Onassis, All American; #302: Necessary Roughness; #303: The Game Plan; #304: All the Right Moves; #305: We Are Multiplex
If you miss the reference in the last panel, shame on you.
The funny thing about me and The Godfather is, as many movies as I've seen, I'd only seen bits and pieces of it throughout the years, here and there, never the whole thing in one sitting — until maybe two years ago. (I'm 34, if you didn't know. So yes, shame on me, too, for waiting so long.)
See, I don't care for the mobster genre. I've seen one episode of The Sopranos and thought it was pretty good; The Departed and Goodfellas are fantastic, of course... but generally, it's not a genre I go out of my way to see. Mobsters, contract killers, and the like are scum; they're not inherently cool, which most films and TV shows in the genre just seem to take as a given with its audience. And so many of them have so little basis in reality that you can't even seriously view them in that regard. As action movies, I can get past this sort of thing, but generally… just not my cup of tea.
So, a couple of years ago, I was in a phase where I felt I should watch some of "the classics" that I haven't seen, and I thought maybe it was time to sit down and watch all three Godfather movies in a weekend — and I was absolutely floored at how exhilirating, how absolutely flawless the first film is. There's nothing I can say that others haven't said about it, so: if you haven't seen it, do. Even if you don't really have any interest in it, see it. Its reputation as one of the best films ever made is very much deserved.
As for the others, I know a lot of people think the second one is even better than the first; I disagree (although, to be sure, the second one is still fantastic). But I also think the third one isn't nearly as bad as the consensus seems to think, either. It's not great. It's a little creepy, with the incestuous love story (especially in light of the fact that it's the director's daughter). But it's not terrible, by any means. It's just nothing special. It's The Further Adventures of Michael Corleone, whereas the first two really revolve around major power shifts in the "family's" history.
Anyway. End ramble.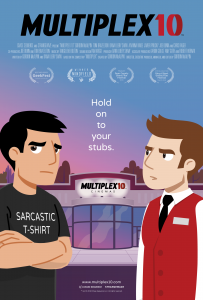 Multiplex 10 is here!
Although Multiplex 10 has ended, an animated prequel/reboot called Multiplex 10 was funded through Kickstarter in 2017 and is NOW AVAILABLE for rent or purchase on Vimeo On Demand, Amazon Video, and elsewhere! And an all-new, irregularly-updated Multiplex 10 web series (set after the short film) recently launched on YouTube! Learn more about the web series on the official Multiplex 10 website!
Stay up to date on all things Multiplex, Multiplex 10 and me (a.k.a. Gordon McAlpin) by subscribing to my newsletter!