Notes from the Manager
Related Strips: #345: You Wouldn't Steal a Car…; #346: You Wouldn't Steal a Purse…
In case you haven't seen these, the titles of this and the last two strips were references to this anti-piracy "public service announcement." Even though I disapprove of piracy, it's a stupid argument, because... well, I'll just let Mindy Kaling explain it. (Seriously, though, it's stupid because piracy is not, in the legal or technical sense, theft; it's copyright infringement. There's a difference.)
Anyway, credit where credit is due: the conversation in the forum from the last strip pretty much wrote this one for me, with HeirToPendragon citing Disney's never-released Song of the South as a valid justification for piracy, in response to a post from me pretty much echoing Jason's sentiment in panel 2. Even though I don't entirely agree, I had to admit, he got me.
That specific movie wouldn't have swayed Jason, though — and Franklin sure as hell wouldn't be the one tempting him with it (although that's a pretty amusing image) — so I hit the internet trying to find a suitable film to replace it with. The first directors I thought of were Akira Kurosawa and Yasujiro Ozu, and apparently all Japanese movies before 1953 are in the public domain (yay Japan), and all their post-1953 work is available legally in the US thanks to the Criterion Collection.
Then I found out about Man Hunt, which is a 1941 thriller by Fritz Lang (whose film M is the first and greatest serial killer movie ever, and had already been established as one of Jason's favorite movies), and, after years of only being available on video through bootlegs and torrents, is indeed due out on DVD for the first time in one month.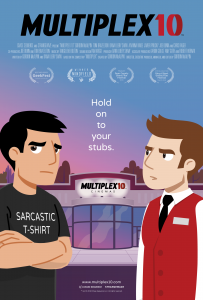 Multiplex 10 is here!
Although Multiplex 10 has ended, an animated prequel/reboot called Multiplex 10 was funded through Kickstarter in 2017 and is NOW AVAILABLE for rent or purchase on Vimeo On Demand, Amazon Video, and elsewhere! And an all-new, irregularly-updated Multiplex 10 web series (set after the short film) recently launched on YouTube! Learn more about the web series on the official Multiplex 10 website!
Stay up to date on all things Multiplex, Multiplex 10 and me (a.k.a. Gordon McAlpin) by subscribing to my newsletter!