Notes from the Manager
Related Strips: #345: You Wouldn't Steal a Car…
Okay, so! The winners of the Multiplex/Night Projectionist Give-away are… (drumroll)…
Jesus Desaad, with "Unwitting Accomplice."
matixd, with "Surprise!"
stevetuk, with a story that could've been the beginning of an awesome Asian horror flick I mean porno, if he weren't such a scaredy-cat.
Congratulations (and condolences) are due to the winners. Winners: Drop me an e-mail with your real names and addresses and I'll get your FANTASTIC PRIZES (a copy of The Night Projectionist #1, signed by writer Robert Heske and also a copy of the so-old-it's-undead Multiplex eBook #1)
I also just decided that three runners-up will get the eBook only (because I only have three signed copies of The Night Projectionist): yessika (even though she cheated by telling two stories), Elegiac (even though he told a story about his parents), and pope suburban. Just like the others, drop me an e-mail to collect your fabulous prize, although I don't need your mailing address.
Thanks all the same to everybody that entered, and if you didn't, don't forget that you can still read The Night Projectionist Noir online every week.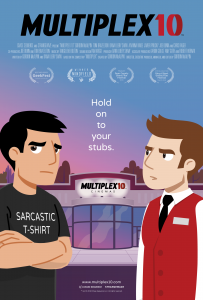 Multiplex 10 is here!
Although Multiplex 10 has ended, an animated prequel/reboot called Multiplex 10 was funded through Kickstarter in 2017 and is NOW AVAILABLE for rent or purchase on Vimeo On Demand, Amazon Video, and elsewhere! And an all-new, irregularly-updated Multiplex 10 web series (set after the short film) recently launched on YouTube! Learn more about the web series on the official Multiplex 10 website!
Stay up to date on all things Multiplex, Multiplex 10 and me (a.k.a. Gordon McAlpin) by subscribing to my newsletter!