Notes from the Manager
The movie they're watching is Observe and Report, starring Seth Rogen. Here's the full clip that the scene in the strip is from:
(If the embedded player doesn't work, click over to Spike to see the clip.)
It's not a laugh-out-loud clip, but the movie itself is peppered with very funny scenes and a disconcertingly bleak story that builds up to an absolutely hilarious ending. It is, however, just about as dark as dark comedy gets. If Bad Santa was just too sweet and cheerful for you, then you'll love the shit out of Observe & Report!
Joe, Tom and myself discussed the movie at length during this week's Triple Feature, but the short version of the podcast is this: Tom didn't see it, Joe loved it, and I thought an absolutely brilliant payoff in the last several scenes elevated a really good movie to a great movie — but I think I would've enjoyed it a little more if the R-rated trailer hadn't given away too much of the best scenes from early in the film. When it's out on DVD, it's definitely something I'll want to revisit, though.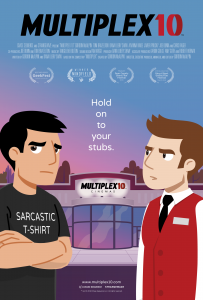 Multiplex 10 is here!
Although Multiplex 10 has ended, an animated prequel/reboot called Multiplex 10 was funded through Kickstarter in 2017 and is NOW AVAILABLE for rent or purchase on Vimeo On Demand, Amazon Video, and elsewhere! And an all-new, irregularly-updated Multiplex 10 web series (set after the short film) recently launched on YouTube! Learn more about the web series on the official Multiplex 10 website!
Stay up to date on all things Multiplex, Multiplex 10 and me (a.k.a. Gordon McAlpin) by subscribing to my newsletter!