Notes from the Manager
Related Strips: #297: Devil in a Red Vest; #300: Something Is Rotten in the State of Denmark; #324: Spilling the Beans, Part Three; #329: Liar's Remorse; #330: Deal with the Devil
This is going unstated, although I think it's obvious enough, but whatever Gretchen's original intent was (access to information, undoubtedly), Gretchen called in the favor Curtis owed her by having him give her a job at Flickhead Video.…
What happens with Allen remains to be seen (we'll find out soon), and of course we can't forget about Franklin, can we…? ;)
UPDATE: On The Triple Feature, we've got a little contest going — between ourselves, that is. Joe, Tom and I have a little Oscar pool set up (we discussed our picks for the Big Six on the latest show, as well as Confessions of a Shopaholic), and the two losers have to draw a guest strip for the winner… meaning no matter which one of us wins, you guys do!
Here's my ballot, so you can keep me honest! I'm terrible at these things, so it's pretty much a given that I'll be drawing a guest strip for somebody. sigh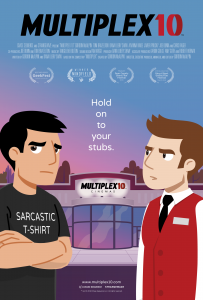 Multiplex 10 is here!
Although Multiplex 10 has ended, an animated prequel/reboot called Multiplex 10 was funded through Kickstarter in 2017 and is NOW AVAILABLE for rent or purchase on Vimeo On Demand, Amazon Video, and elsewhere! And an all-new, irregularly-updated Multiplex 10 web series (set after the short film) recently launched on YouTube! Learn more about the web series on the official Multiplex 10 website!
Stay up to date on all things Multiplex, Multiplex 10 and me (a.k.a. Gordon McAlpin) by subscribing to my newsletter!