#300: Something Is Rotten in the State of Denmark
November 14, 2008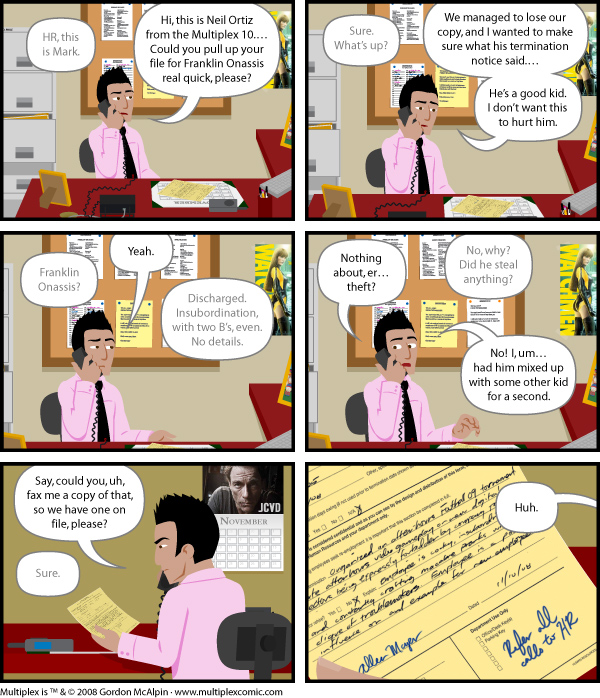 Notes from the Manager
Related Strips: #297: Devil in a Red Vest; #298: Adding Injury to Insult; #299: Power Struggles
Ah, alas, I had to wrap up this week's three-part mini-arc on #300, but it's a milestone nonetheless. (Nevermind that there have been several guest strips by other people, and several bonus strips in the eBook, of course.)
Next week will get lighter, I promise, as the Multiplex gang plays Game Five! But wait, you say, how can this be if they are not allowed to use the digital projector anymore?! Will Franklin get to play, since he no longer works at the Multiplex 10?! Who will win in the epic, final battle between Flickhead Video and the Multiplex 10 Cinemas?! STAY TUNED!!
Become a Multiplex patron
Multiplex is supported in part by Andrew Hathaway at Can't Stop the Movies
and readers like you via PATREON.
Patron rewards include:
• A free eBook every month (or so)!
• Multiplex Movie Reviews and
other bonus comics
• Character doodles!
• Invites to Google Hangouts!
• Sneak peeks at early and in-progress
strips and artwork!
• and MORE!
Deleted Scenes Blog
Bonus comics, drawings,
movie trailers and more
Wednesday, March 12, 2014
Jason explains everything you need to know about this bonus comic in the strip itself:
Other films reviewed to date are The Addams Family movies, The Lives of Others, Rubber, Get Real, and Transformers: The Movie. Some of them are kinda funny, some of them are actually serious, but they're all fun, I hope. Anyway, they were available to Kickstarter backers, of course, and now also my Patreon patrons in the Activity Stream — and since I enjoyed doing them, I going to keep doing them as exclusive Patreon bonus comics from time to time (and, yes, Kurt will get to do a review now and then, too).
So consider this a sneak preview of being a Patreon patron! Support Multiplex via Patreon to read the rest in the patrons-only Activity Stream — and whether or not you're already a patron, there's a movie you'd like to see Jason review, let me know here!
Other Recent Posts