WARNING: It's probably too late already, but today's strip is sorta NSFW!
#324: Spilling the Beans, Part Three
January 30, 2009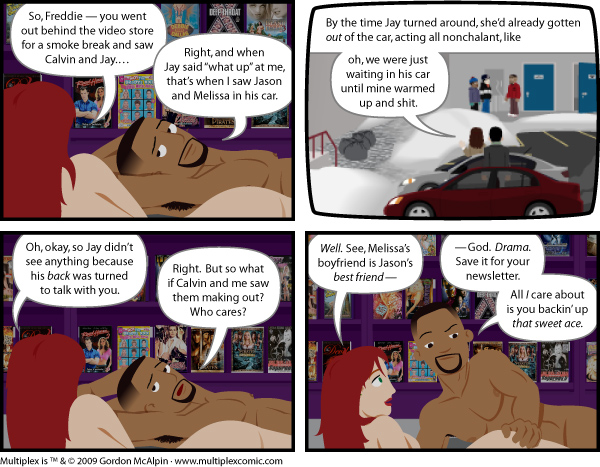 Notes from the Manager
Related Strips: #322: Spilling the Beans, Part One; #323: Spilling the Beans, Part Two
And that's not all Freddie spilled! Wink wink, nudge nudge. Uhh, anyway.
Despite being in the "Adult" section of Flickhead Video and the state of undress Freddie and Gretchen are in, there is actually no nudity in this strip. Strictly PG-13! But I thought a little NSFW warning might be merited anyway, just because of the amount of nekkid flesh you can sort of see in it.
For a closer look at panel 2 (and without the "crappy TV" treatment applied to it), please vote for Multiplex at TopWebComics!
(FYI, I had to pick a name for the beauty salon located in-between Flickhead and the Multiplex, even though the sign is obviously so small that you can't even read it. Thanks to Red Wednesday for the name "Dye Another Day." Sooner or later one or more of the Dye Another Day staff will turn up at the Multiplex… if they haven't already.)
Donation Links: Help support the strip via PayPal or Dwolla — or buy something from The Multiplex Store!
Deleted Scenes Blog
Bonus comics, drawings,
movie trailers and more
Tuesday, December 10, 2013
Squeeeeeeeeeeeeee.
Godzilla returns to theaters courtesy director Gareth Edwards (and Warner Bros. Pictures and Legendary Pictures) on May 16, 2014.
Other Recent Posts