Notes from the Manager
Related Strips: #322: Spilling the Beans, Part One; #323: Spilling the Beans, Part Two
And that's not all Freddie spilled! Wink wink, nudge nudge. Uhh, anyway.
Despite being in the "Adult" section of Flickhead Video and the state of undress Freddie and Gretchen are in, there is actually no nudity in this strip. Strictly PG-13! But I thought a little NSFW warning might be merited anyway, just because of the amount of nekkid flesh you can sort of see in it.
For a closer look at panel 2 (and without the "crappy TV" treatment applied to it), please vote for Multiplex at TopWebComics!
(FYI, I had to pick a name for the beauty salon located in-between Flickhead and the Multiplex, even though the sign is obviously so small that you can't even read it. Thanks to Red Wednesday for the name "Dye Another Day." Sooner or later one or more of the Dye Another Day staff will turn up at the Multiplex… if they haven't already.)
Multiplex News & Updates
Bonus comics, drawings, and
other awesome stuff
Saturday, July 1, 2017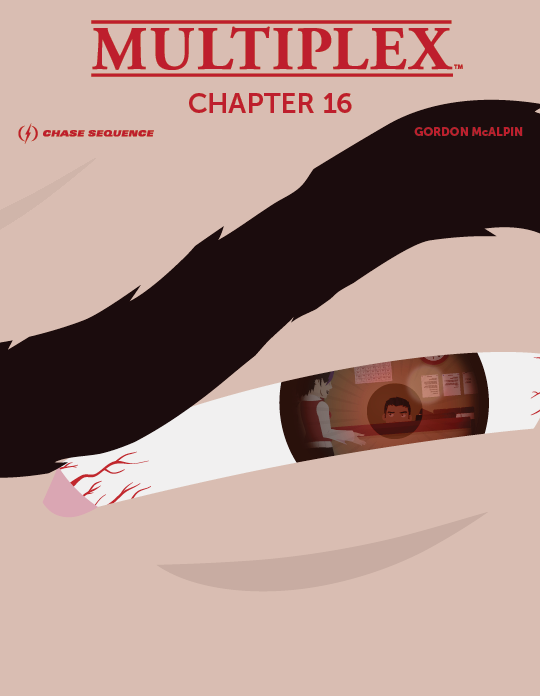 $3+ Patreon supporters get this one for free (until the next eBook is available), but for the rest of youse: The Multiplex: Chapter 16 eBook is now available!
Chapter 16 collects strips #339 –362 from the Multiplex archives, plus four bonus comics and one "extended scene" not found in the archives! Chapter 16 costs $1.99.
Supporting the Multiplex chapter eBooks helps make future Multiplex print collections possible. Thank you for your support!
Other Recent Posts