WARNING: It's probably too late already, but today's strip is sorta NSFW!
#324: Spilling the Beans, Part Three
January 30, 2009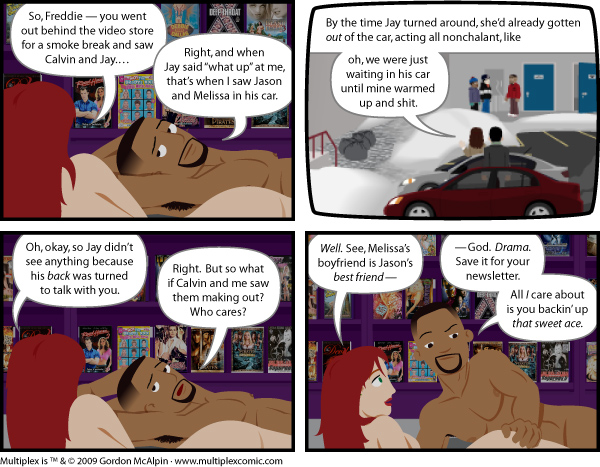 Notes from the Manager
Related Strips: #322: Spilling the Beans, Part One; #323: Spilling the Beans, Part Two
And that's not all Freddie spilled! Wink wink, nudge nudge. Uhh, anyway.
Despite being in the "Adult" section of Flickhead Video and the state of undress Freddie and Gretchen are in, there is actually no nudity in this strip. Strictly PG-13! But I thought a little NSFW warning might be merited anyway, just because of the amount of nekkid flesh you can sort of see in it.
For a closer look at panel 2 (and without the "crappy TV" treatment applied to it), please vote for Multiplex at TopWebComics!
(FYI, I had to pick a name for the beauty salon located in-between Flickhead and the Multiplex, even though the sign is obviously so small that you can't even read it. Thanks to Red Wednesday for the name "Dye Another Day." Sooner or later one or more of the Dye Another Day staff will turn up at the Multiplex… if they haven't already.)
Become a Multiplex patron
Multiplex is supported by Andrew Hathaway at Can't Stop the Movies and readers like you via PATREON. Help keep the Multiplex 10 open for business by becoming a patron today!
Patron rewards include:
Free eBooks!
Multiplex Movie Reviews and other bonus comics
Character doodles!
Invites to Google Hangouts!
Sneak peeks at early and in-progress strips and artwork!
and MORE!
Deleted Scenes Blog
Bonus comics, drawings,
movie trailers and more
Wednesday, July 1, 2015
Ten years ago this month (on July 10th, 2005, to be specific), I posted two shitty looking comics to a corner of the Stripped Books website. At that point, I had no idea what I was in for: it was a gag strip that would quickly transform into a character-based comedy where people talk about movies — not just superficially about specific movies, but about how people watch and talk about movies of all kinds. The art got a little better, too.
The Multiplex characters took on a life of their own and ultimately turned this comic into an eleven- or twelve-year "epic" about the movie theater industry in one of the most interesting periods in its hundred-year history (and also this one jerk who kinda sorta becomes a slightly better person maybe if you squint your eyes and cock your head to the side a little).
Multiplex's readership grew quickly in those first few years, thanks in very large part to a pair of guest strips on PvP and some well-placed Project Wonderful ad campaigns (thanks, Something Positive and Shortpacked!), and in the years since it has since retained a small but passionate readership that has supported me time and time again: the Patreon project of course, as well as two successful Kickstarter projects to fund two books I'm very proud of.*
Thank you for allowing me to tell this story.
Thank you for reading.
— Gordon

* Speaking of Kickstarter projects, there will be an announcement about Multiplex: Book Three… very soon.
Other Recent Posts