Notes from the Manager
Related Strips: #268: Old School, Part One; #269: Old School, Part Two; #270: Seems Like Old Times, Part One
Those of you read Stripped Books know how I like to shift up my art style now and then, and I've been meaning to do that in Multiplex for fake movies — or, like this, flashbacks — for some time. (I suppose I sort of did it in #235.) I've just never done any other flashbacks (besides #235), and on the few occasions I've done fake movies in the past, I haven't had time to play around figuring out a different style.
So anyway, James's flashback (and this three-parter) will conclude on Friday, with some more of the Regal Theater.
Since I added this late Monday, here it is again: The Playing in Peoria Podcast chatted with me about Multiplex, movies, and the greatest movie Robert Downey Jr. will never star in the other day, and you can check it out online now or download it directly from iTunes. Give their other shows a listen, too, because — being co-hosted by a bunch of comedians — the shit is hysterical. I highly recommend episodes 8 and 14.
Multiplex News & Updates
Bonus comics, drawings, and
other awesome stuff
Saturday, July 1, 2017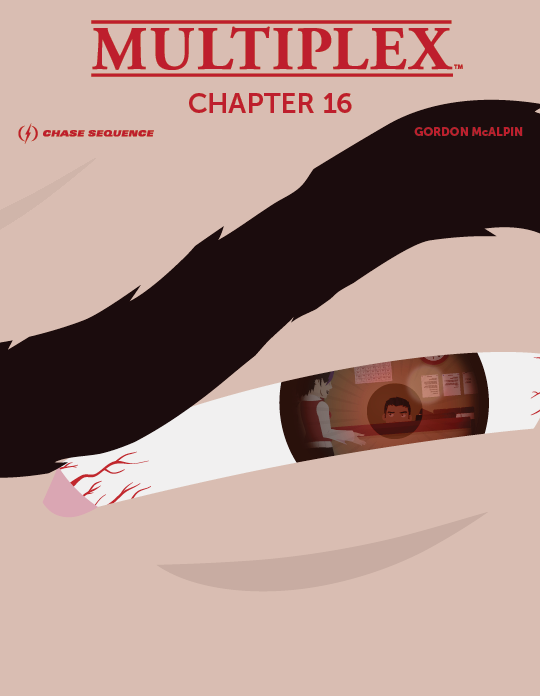 $3+ Patreon supporters get this one for free (until the next eBook is available), but for the rest of youse: The Multiplex: Chapter 16 eBook is now available!
Chapter 16 collects strips #339 –362 from the Multiplex archives, plus four bonus comics and one "extended scene" not found in the archives! Chapter 16 costs $1.99.
Supporting the Multiplex chapter eBooks helps make future Multiplex print collections possible. Thank you for your support!
Other Recent Posts