Notes from the Manager
Related Strips: #268: Old School, Part One; #269: Old School, Part Two
This is becoming an all-too-common event: the strip ran long, and I had to break it apart into multiple updates. So, once again, there will be three updates this week. See you Wednesday…
UPDATE: The Playing in Peoria Podcast chatted with me about Multiplex, movies, and the greatest movie Robert Downey Jr. will never star in the other day, and you can check it out online now or download it directly from iTunes. Give their other shows a listen, too, because — being co-hosted by a bunch of comedians — the shit is hysterical. I highly recommend episodes 8 and 14, as well.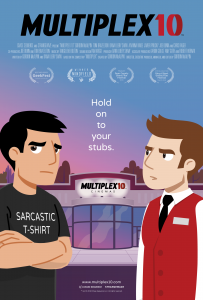 Multiplex 10 is here!
Although Multiplex 10 has ended, an animated prequel/reboot called Multiplex 10 was funded through Kickstarter in 2017 and is NOW AVAILABLE for rent or purchase on Vimeo On Demand, Amazon Video, and elsewhere! And an all-new, irregularly-updated Multiplex 10 web series (set after the short film) recently launched on YouTube! Learn more about the web series on the official Multiplex 10 website!
Stay up to date on all things Multiplex, Multiplex 10 and me (a.k.a. Gordon McAlpin) by subscribing to my newsletter!