Notes from the Manager
Thanks to Howie Noel of the awesome sci-fi mystery action romance Tara Normal for today's Rise of the Planet of the Apes-themed guest strip! Who's going to go see that movie this week? I'm way behind on movies and will probably try to finally see Captain America instead, but I think Rise looks pretty fun.
Thanks again to all of the other cartoonists who helped me out with guest strips in my time of need. Until I manage to get them added to the Guest Strips second, you can get to them with the calendar menu in the left sidebar. There will be at least one more guest strip in the near future, by a good friend of mine, but I'll be trying to get caught up again on my own personal updates — while also gearing up for heading straight back to Sweet Home Chicago for the 2011 Chicago Comicon next weekend.
No rest for the weary, right?
See you tomorrow with my own second update for the week.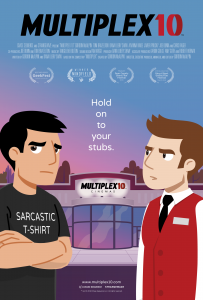 Multiplex 10 is here!
Although Multiplex 10 has ended, an animated prequel/reboot called Multiplex 10 was funded through Kickstarter in 2017 and is NOW AVAILABLE for rent or purchase on Vimeo On Demand, Amazon Video, and elsewhere! And an all-new, irregularly-updated Multiplex 10 web series (set after the short film) recently launched on YouTube! Learn more about the web series on the official Multiplex 10 website!
Stay up to date on all things Multiplex, Multiplex 10 and me (a.k.a. Gordon McAlpin) by subscribing to my newsletter!