Notes from the Manager
I'm sure somebody is going to read this so literally that they think they need to have any idea who Slavoj Žižek is or what neoformalist theory is to understand this strip, but you really don't.
Anyway, we're finally checking in on Melissa. Since I've started classes this semester, and I'm taking a Moving Image Media Studies class (basically, Film Studies plus TV and so such as well), you're probably going to get a few more strips like this in the next few months… heh
Anyway, see you Friday!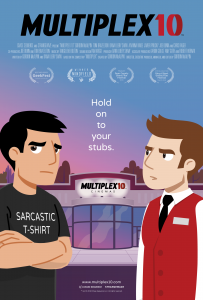 Multiplex 10 is here!
Although Multiplex 10 has ended, an animated prequel/reboot called Multiplex 10 was funded through Kickstarter in 2017 and is NOW AVAILABLE for rent or purchase on Vimeo On Demand, Amazon Video, and elsewhere! And an all-new, irregularly-updated Multiplex 10 web series (set after the short film) recently launched on YouTube! Learn more about the web series on the official Multiplex 10 website!
Stay up to date on all things Multiplex, Multiplex 10 and me (a.k.a. Gordon McAlpin) by subscribing to my newsletter!