Notes from the Manager
Chunks of this strip's dialogue were shamelessly stolen from a conversation I had with Tom Brazelton (Theater Hopper) and Brandon J. Carr earlier today on Twitter.
Obviously, it was about the RoboCop remake, the trailer for which is… right here:
One week of grad school down, 13-ish to go (this semester). If any of my drawing students, fellow grad students, or professors just read this strip after looking up Multiplex because I mentioned it in class, I just want to say, I'm sorry.
UPDATE: I hadn't planned on doing this, but since a couple of people have asked for Jason's "Movie Logo" T-shirt to become a real thing, so I've added it to the Multiplex Store. At this point, it's just 1's and 0's on a computer, so the rest is up to you! Make it real by buying one today!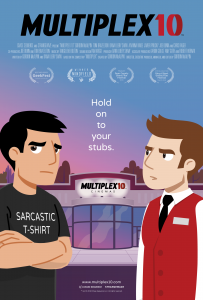 Multiplex 10 is here!
Although Multiplex 10 has ended, an animated prequel/reboot called Multiplex 10 was funded through Kickstarter in 2017 and is NOW AVAILABLE for rent or purchase on Vimeo On Demand, Amazon Video, and elsewhere! And an all-new, irregularly-updated Multiplex 10 web series (set after the short film) recently launched on YouTube! Learn more about the web series on the official Multiplex 10 website!
Stay up to date on all things Multiplex, Multiplex 10 and me (a.k.a. Gordon McAlpin) by subscribing to my newsletter!