Notes from the Manager
Related Strips: #793: Etiquette
Okay! See you Friday! It'll be in the late afternoon as per usual.
I've got a few movies picked out already, but feel free to keep talking about what you'd like to see. I will say this: Rocky Horror is out; The Room is out (in-universe excuse: it's playing at the Music Box in May); and Jason would sooner show a Bayformers marathon than Birdemic.

Also, I refuse to watch any of those three movies. I would do anything for Multiplex, but I won't do that.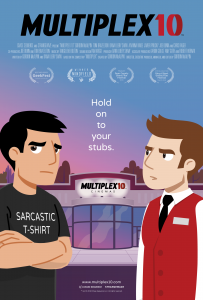 Multiplex 10 is here!
Although Multiplex 10 has ended, an animated prequel/reboot called Multiplex 10 was funded through Kickstarter in 2017 and is NOW AVAILABLE for rent or purchase on Vimeo On Demand, Amazon Video, and elsewhere! And an all-new, irregularly-updated Multiplex 10 web series (set after the short film) recently launched on YouTube! Learn more about the web series on the official Multiplex 10 website!
Stay up to date on all things Multiplex, Multiplex 10 and me (a.k.a. Gordon McAlpin) by subscribing to my newsletter!