Notes from the Manager
If at first you don't succeed… try, try, try, try, try again?
Sometimes I have to wonder how some people keep getting work. Superman Returns broke even at best and cost $270 million. Valkyrie broke even at best, with "only" a $75 million production budget. Unless the overseas box office is ridiculously good, the $200 million Jack the Giant Slayer is going to be a massive bomb. Bryan Singer has made some pretty good movies, but at what point does Hollywood say, "Hey, maybe this isn't the guy we should be giving the reins to a $200-million-plus movie…?" (Personally, I think his strength is with character, not action, and he should step back and make some low-budget stuff again. As much as I love X-Men 2, the action scenes aren't exactly great.)
I asked this question on Facebook last night and it generated a fun conversation:
What are the unforgivably shittiest, terrible movies ever made by undeniably great directors? Key words: "by great directors," so no saying anything by Robert Rodriguez or Clint Eastwood (even though he's made a few great movies, I don't think he brings much to the movies as a director, as much as he occasionally produces films that are great because of their scripts and actors).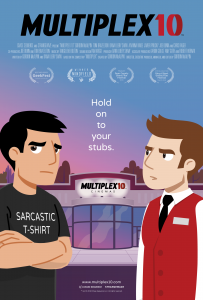 Multiplex 10 is here!
Although Multiplex 10 has ended, an animated prequel/reboot called Multiplex 10 was funded through Kickstarter in 2017 and is NOW AVAILABLE for rent or purchase on Vimeo On Demand, Amazon Video, and elsewhere! And an all-new, irregularly-updated Multiplex 10 web series (set after the short film) recently launched on YouTube! Learn more about the web series on the official Multiplex 10 website!
Stay up to date on all things Multiplex, Multiplex 10 and me (a.k.a. Gordon McAlpin) by subscribing to my newsletter!