Notes from the Manager
Related Strips: #687: Insolence of the Dead; #688: Born for This; #689: Bad Brains; #690: Bad Taste; #691: Lockdown, Part One
Just a reminder: Those of you who missed out on the Kickstarter fundraiser can still help support the production of Book 2 via the Multiplex Store (and PayPal). These are only available for a limited time! I'm not sure how limited, but we're talking a matter of weeks, not months.
I spent last week cranking out a large illustration project that will help keep my bills paid for the next several months, so I'll be able to start drawing the last two bonus strips for Chapter 7 this week and hopefully get out the finished Chapter 7 eBook before the end of the month, as planned.
While I am paying myself a modest "salary" from the funding raised through Kickstarter and the Multiplex Store, at this point — with over $17,500 raised after Kickstarter, Amazon, and PayPal fees — I'm paying myself less than minimum wage, so I am supplementing my income with some other work. The more money we raise, the less I need to do that… and (fringe benefit!) the more I can do three strips a week of the regular comic — like I'm doing this week, as a matter of fact. Hopefully, I'll even get caught up and can start toning these things again, but for the time being, the hand-drawn stuff will just be inked.
Thanks for reading, everybody, and… see you Wednesday!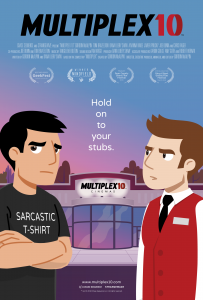 Multiplex 10 is here!
Although Multiplex 10 has ended, an animated prequel/reboot called Multiplex 10 was funded through Kickstarter in 2017 and is NOW AVAILABLE for rent or purchase on Vimeo On Demand, Amazon Video, and elsewhere! And an all-new, irregularly-updated Multiplex 10 web series (set after the short film) recently launched on YouTube! Learn more about the web series on the official Multiplex 10 website!
Stay up to date on all things Multiplex, Multiplex 10 and me (a.k.a. Gordon McAlpin) by subscribing to my newsletter!