Notes from the Manager
Related Strips: #639: Aaah! Zombies!!; #641: Method Man; #642: Call to Adventure
The title here was taken from Bruce Campbell's memoir, If Chins Could Kill: Confessions of a B-Movie Actor. I'm sure several of you have read it, although I haven't.
Anyway, I ran short on time for this strip, so the toning job is a little half-assed. I'm still figuring out my hand-drawn comics workflow (and some technical stuff here and there), and coloring/toning is pretty new to me. (Basically every time I've ever colored anything by hand before, I've been doing it like an idiot. Thanks to Joel Watson of HijiNKS ENSUE for some really helpful pointers that will make future strips go faster… and hopefully look better.)
Without getting too spoilery, we'll be seeing some other zombies besides Angie 2… in the near future, so if you'd like to get into the Multiplex "movie" early, become a Multiplex: the Movie Sponsor today! There are only three left at the moment (although I will likely add more as we get further into the movie and I find I need more zombie extras).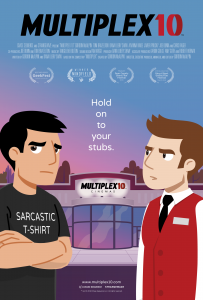 Multiplex 10 is here!
Although Multiplex 10 has ended, an animated prequel/reboot called Multiplex 10 was funded through Kickstarter in 2017 and is NOW AVAILABLE for rent or purchase on Vimeo On Demand, Amazon Video, and elsewhere! And an all-new, irregularly-updated Multiplex 10 web series (set after the short film) recently launched on YouTube! Learn more about the web series on the official Multiplex 10 website!
Stay up to date on all things Multiplex, Multiplex 10 and me (a.k.a. Gordon McAlpin) by subscribing to my newsletter!