Notes from the Manager
Related Strips: #416: Past, Present and Future?, Part One; #417: Past, Present and Future?, Part Two; #418: Past, Present and Future?, Part Three; #557: The Third Miracle, Part Three; #561: A Night in the Patio, Part One; #562: A Night in the Patio, Part Two; #563: A Night in the Patio, Part Three
The first panel here took me twelve hours to draw, so there's a lot more detail in it than you can see here online. Vote for Multiplex at TopWebComics to see it twice as big!
I mentioned on Monday that I'd be telling you a lot more about the Patio today — and I will, but it won't be here. Head on over to Chicago's own Gapers Block to read "The Return of the Patio Theater," an interview I conducted with the Patio's new manager (and son of the owner), Demetri Kouvalis — plus a brief history of the Patio and a photo set with photos by yours truly and my friend Charlene Epple. (Some of the photos were used as reference in this arc, so you might recognize them.)
For some behind-the-scenes chatter about this story arc and Multiplex in general, have a listen to TGT Webcomics Podcast Episode #151 wherein Kurt Sasso and I chat it up for an hour and a half about movies, the Patio Theatre, how I draw the strip, and even a couple of teases about where things are heading in the near future.
See you Friday with the last of my little three-strips-a-week bout of masochism.
SHIRTS ON SALE! I have a clearance sale on all of the T-shirts in my store, because… I'm trying to clear out of my stock. (That's what clearance sales are usually for, right?) Some of the designs are as low as $4.99, so, y'know. Check 'em out soon!
ORIGINAL ART FOR SALE! If you loved the Shortpacked! guest strip I did a while back, you can bid on the original art — plus a color print of the finished strip — over on eBay!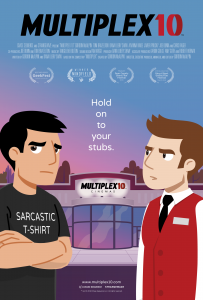 Multiplex 10 is here!
Although Multiplex 10 has ended, an animated prequel/reboot called Multiplex 10 was funded through Kickstarter in 2017 and is NOW AVAILABLE for rent or purchase on Vimeo On Demand, Amazon Video, and elsewhere! And an all-new, irregularly-updated Multiplex 10 web series (set after the short film) recently launched on YouTube! Learn more about the web series on the official Multiplex 10 website!
Stay up to date on all things Multiplex, Multiplex 10 and me (a.k.a. Gordon McAlpin) by subscribing to my newsletter!