Notes from the Manager
Related Strips: #508: Concessions, Part One
The Multiplex iPhone app has been approved and is now available in the App Store. It is FREE (which of course means it's iAd-supported), so if you have an iPhone or iPod Touch, please give it a spin, and if you're so inclined, leave an honest review.
iPad users are better off sticking with the full website; it's a fairly straightforward app — a nice, clean, stripped-down interface to read Multiplex on a tiny screen, as opposed to navigating the full website and all the extra bells & whistles, and we think it does what it's supposed to do rather well.
Thanks are due to my brother Lawrence for coding the whole thing (not to mention my website), and to all the beta testing volunteers!
(Since I've already been asked, I'll add that yes, we are planning an Android version — but don't start holding your breath or anything yet. My brother is a busy busy guy.)
I'm running a T-shirt idea past the forumgoers, so if you'd like to check it out and let me know what you think, please do.
Lastly, the Multiplex Pre-Order/Sales Drive thingy is still going on! We're still just shy of half-way to the goal, but I think we can still make it. Pre-order a book now and get FREE STUFF. Who doesn't like free stuff? Even if you've already pre-ordered (or want to wait 'til you can flip through one with your own, greasy mitts), please consider buying a print or T-shirt to help support Multiplex.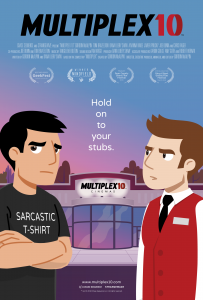 Multiplex 10 is here!
Although Multiplex 10 has ended, an animated prequel/reboot called Multiplex 10 was funded through Kickstarter in 2017 and is NOW AVAILABLE for rent or purchase on Vimeo On Demand, Amazon Video, and elsewhere! And an all-new, irregularly-updated Multiplex 10 web series (set after the short film) recently launched on YouTube! Learn more about the web series on the official Multiplex 10 website!
Stay up to date on all things Multiplex, Multiplex 10 and me (a.k.a. Gordon McAlpin) by subscribing to my newsletter!