Notes from the Manager
Related Strips: #104: All I Want for Christmas; #105: Hentai for the Holidays; #106: Scented Santa; #107: I Told You So
(Incidentally, Damon and his mom here have appeared before — first the mom in #240, and then together in #248 — but they're not really related strips, per se.)
I never got around to having the Blogger come back at the Multiplex 10's Santa last Christmas, but it's supposed to be a recurring thing now.
As for The Day the Earth Stood Still, you can see the trailer over at Apple — and then compare that with the trailer for the original, below:
We discussed the remake on The Triple Feature (episode #103) Monday night, but basically, I thought it was pretty dull. While some critics are simply aghast that they remade the original at all, I don't really think of it as a perfect film. A really enjoyable film, sure, but the idea of a remake doesn't really bother me — unfortunately, this is not a terribly good remake.
If, as with the original, the remake is supposed to be a message movie — not just a showcase for so-so CG special effects sequences — then it's a failure, because this Klaatu (Keanu Reeves) fails to deliver his message to anyone as the original Klaatu does. Sure, he sort of explains what he's doing on Earth to Jennifer Connelly (in the Patricia Benson role, upgraded from a secretary to a scientist), but from the man on the street's perspective, the events in the new version are this: an alien ship landed, fucked some shit up, and then left.
This probably wouldn't have been a big deal if the action were more interesting, if the new Gort had gotten to fuck a bit more shit up, or Keanu Reeves and Jennifer Connelly didn't look twice as bored as I was throughout the entire movie — but alas, such was not the case.
But wait! There's more!
Although Multiplex will be ending soon, thanks to readers like you on Patreon, the Multiplex 10 will stay open for business! I'll be posting bonus comics from future print collections, Multiplex Movie Review strips, updates on the upcoming Multiplex animated short, and, of course, other non-Multiplex stuff.
In addition to the warm, soothing feeling of being a patron of the fine art of comic strippery, Patrons get access to free Multiplex eBooks, sneak previews of upcoming comics and other behind the scenes peeks, sketch giveaways, and more!
You can also support Multiplex by shopping at the Multiplex store — or at Amazon via these affiliate links: United States | United Kingdom | Canada
Deleted Scenes Blog
Bonus comics, drawings,
movie trailers and more
Friday, February 17, 2017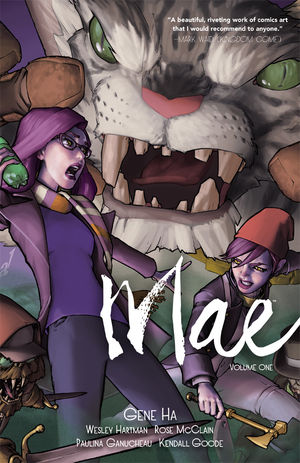 Heads up, completists. I have a three page story in the new Mae Volume One TPB from Dark Horse Comics. This is the same one I co-wrote (with Mae creator Gene Ha) and as a thank-you for backers of its original Kickstarter edition — and Dark Horse's editors decided to include the story in the back matter of this new collection, along with a bunch of other short stories by other great creators.
BUT… I have a story in a Dark Horse-published book! That's cool!
If you're not familiar with Mae, it's an all-ages adventure comic by Gene Ha (Top Ten and a billion other comics). Here's the official Dark Horse synopsis:
When she was just a girl, Abbie discovered a portal to a fantasy world and has since had great adventures there: defeating horrible monsters, power-mad scientists, and evil nobles. But when she turned twenty-one it all came apart and she decided to return home. Her sister, Mae, had no idea what happened to Abbie all this time, and Abbie's tales are too hard to believe—that is, until the monsters and other terrible creatures start to cross over to our world . . . Collects issues #1–#6.
I highly recommend it. It is a lot of fun. You can learn more about Mae Volume One on Amazon.
Other Recent Posts