Notes from the Manager
So… yeah. #250, and the first (I think) completely self-contained strip in a rather long time, although it might help if you have even a passing familiarity with American Girl dolls (particularly the "Just Like You" line) and with the existence of the Kit Kittredge: An American Girl movie starring Abigal Breslin (in limited release now, opening nationwide on July 2nd). That being the case, if you're a boy and you don't get this strip, I wouldn't really stress out about it. Really.
EDIT (6/27/08): If only this ad could be up on this page all the time: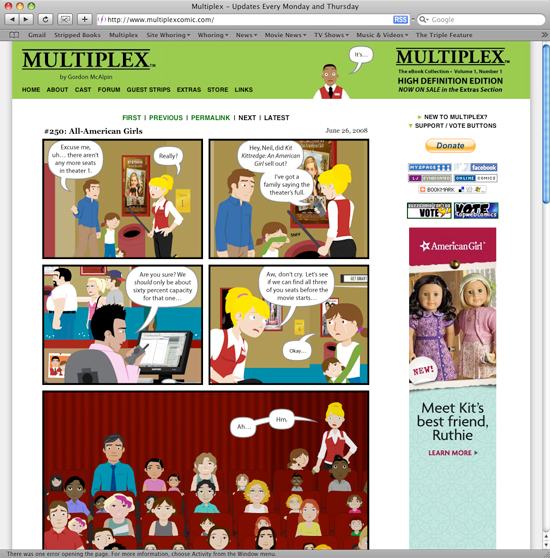 Anyway, so #250. It's not really a milestone, just a round number. As many of you know, there are a handful of other strips not in the archives, in the first Multiplex eBook and a one or two as-yet-uncollected ones from the upcoming second eBook (yes, I'm waaaaay behind, I know), so this is really not the 250th Multiplex strip.
The next real milestone for me will be the third anniversary, which is right around the corner, on July 10th — but I guess some people still think the round-numbers thing is pretty cool, so thank you for reading all the same.
By the way, despite my promise (to myself) that I won't be going to any comic book conventions until I have a frickin' comic book to sell, it turns out I will be appearing at this year's Wizard World Chicago after all — on Saturday (June 28) only. It's kind of an unoffical appearance, so I won't be in the program book, but you will be able to find me at Tom Brazelton's booth (#4308) in Artist's Alley, alongside Joe Dunn at the Digital Pimp booth (#4310). Stop by, introduce yourself, and I'll draw a crappy little picture for you… by hand, even.
Become a Multiplex patron
Multiplex is supported by Andrew Hathaway at Can't Stop the Movies, A Fan of Coherence, and readers like you via PATREON. Help keep the Multiplex 10 open for business by becoming a patron today!
Patron rewards include:
Free eBooks!
Multiplex Movie Reviews and other bonus comics
Character doodles!
Invites to Google Hangouts!
Sneak peeks at early and in-progress strips and artwork!
and MORE!
Deleted Scenes Blog
Bonus comics, drawings,
movie trailers and more
Saturday, October 4, 2014

Written and directed by James Ward Byrkit.
Starring Emily Foxler, Hugo Armstrong, Nicholas Brendon, Elizabeth Gracen, Lauren Maher, Alex Manugian, Lorene Scafaria, and Maury Sterling.
A new Patreon backer at the $50 level opted out of the usual reward of a plug in the "Become a Multiplex Patron" box (above, on the website), asking instead for me to plug the 2013 indie science fiction filmCoherence (with which he is not affiliated). I was happy to oblige, and so "A fan of Coherence" — a.k.a. The Patron, as I'll refer to him from here out — is, for the duration of his patronage, among Multiplex's supporters. (And, yes, I will review just about any movie a $50 backer asks me to.)
What really got my interest in the film (aside from being asked very nicely to see it) was that The Patron compared it to Shane Carruth's Primer, one of the best no-budget sci-fi movies ever made. I can definitely see the comparison: both are decidedly low-budget films with small casts and a science-fictiony premise. I feel like seeing the film fairly blind is probably the best, so I won't summarize the plot beyond the premise of eight friends having a dinner party when a comet passes over and Strange Things Happen, but I don't think I'm quite as enthusiastic as The Patron.
Unfortunately, the "go in as blind as you can" suggestion means I feel like I need to be pretty vague. Some clunky (and largely unnecessary) exposition gets spat out early on, which tried my patience a bit, but it gets fun as the plot gets rolling. And the plot is definitely the star of the film, not the largely forgettable cast of affluent, Southern California white people or the dialogue, which often feels improvised (in that it neither pushes the story forward nor reveals character, as good dialogue ought to).
Despite some genuinely terrifically creepy or suspenseful moments in the film, a handful of contrived plot points hold it back from being much more than a fun genre flick for me, but I found myself wondering what would happen next — almost up to the very end. A late turn in the film got more of an eye-roll from me than the shock that I think it was supposed register. As always, your mileage may vary, but the film's merits make it well worth a viewing, particularly for science fiction fans suffering from blockbuster fatigue.
Here's the trailer! If it piques your interest, please do check it out. It's available for rent from Amazon Instant Video or for purchase from its official website, among other places. (I never recommend reading YouTube comments, but definitely on't read the comments if you want to stay away from spoilers.)
Other Recent Posts