Notes from the Manager
Aaaand... #150! And so ends my months-long, mad scramble to hit #150 in the same week as the two-year anniversary... Multiplex historians will note that this is the first strip set entirely away from the theater. It won't happen too often -- it's called "Multiplex," after all. Thanks (once again) for reading, everybody. See you Monday.
Oh, and for the record, yes, the title of this strip is from the song by Player, which was most recently used rather well in the mostly-shitty Transformers movie. (Listen to the latest Triple Feature for more of my thoughts -- and Tom Brazelton's -- on the film. Joe Dunn, who gave his opinion last week, immediately after seeing a sneak preview of the film, also chimed in with his thoughts, one week later. Plus, we spent a few minutes talking about Multiplex, the two-year anniversary, and how I apparently manage to successfully keep things fresh in the series after 150 installments...)
Multiplex News & Updates
Bonus comics, drawings, and
other awesome stuff
Thursday, June 15, 2017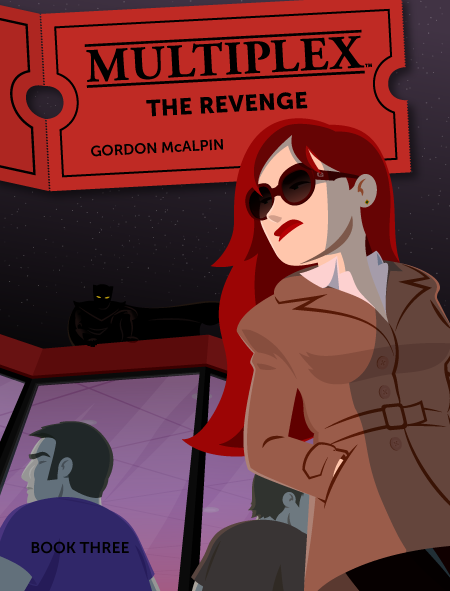 Multiplex: The Revenge (Book Three) is now available in the Multiplex Store! (Only regular/unsigned editions are available at this time; I'll add artist's editions once all of the Kickstarter rewards have been fulfilled.)
Multiplex: The Revenge collects chapters 11–15 of the series (strips #217–338, which ran from March 2008 to March 2009), plus over 30 bonus comics — including an all-new stories sets on opening night of The Dark Knight and Zack Snyder's Watchmen! If you miss Multiplex and would like to see more with these characters, the book collections are for you.
Head on over to the Multiplex Store and check it out today!
Other Recent Posts