Notes from the Manager
So tomorrow is Multiplex's two-year anniversary -- and #150 is just around the corner. It's due later this week, probably Thursday. Yay, Multiplex! As a birthday present, you could blog about the strip or otherwise tell your friends whom you think might dig it... ;)
The strip's come a long way since the early days. The art is a little more involved -- and, I think, better for it. Obviously the dramatic elements (as some people have noticed) which have been around all along have taken the spotlight more and more, particularly in this past year.
Anyway, thanks are due to Tom, Joe, Shayna, Jena, and -- of course -- Kurt for their help with the strip (in some form or another) over the past year. And, as always, thank you for reading.
THIS WEEK ON THE TRIPLE FEATURE TALKCAST: I'm not entirely sure what we're talking about on the show tonight, but I expect we'll do a little bit of talking about Multiplex, because of the anniversary. So if you've got any questions for me (like when the funny is coming back, or whatever) or you just want to hear me blather away about the strip for a little bit, call in or tune in live TONIGHT (6/11 at 9PM Central) or download the podcast!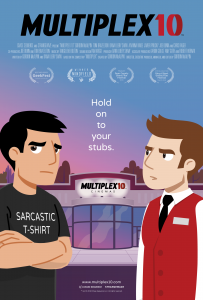 Multiplex 10 is here!
Although Multiplex 10 has ended, an animated prequel/reboot called Multiplex 10 was funded through Kickstarter in 2017 and is NOW AVAILABLE for rent or purchase on Vimeo On Demand, Amazon Video, and elsewhere! And an all-new, irregularly-updated Multiplex 10 web series (set after the short film) recently launched on YouTube! Learn more about the web series on the official Multiplex 10 website!
Stay up to date on all things Multiplex, Multiplex 10 and me (a.k.a. Gordon McAlpin) by subscribing to my newsletter!